Finding Shangri-La Trek: Eastern Tibet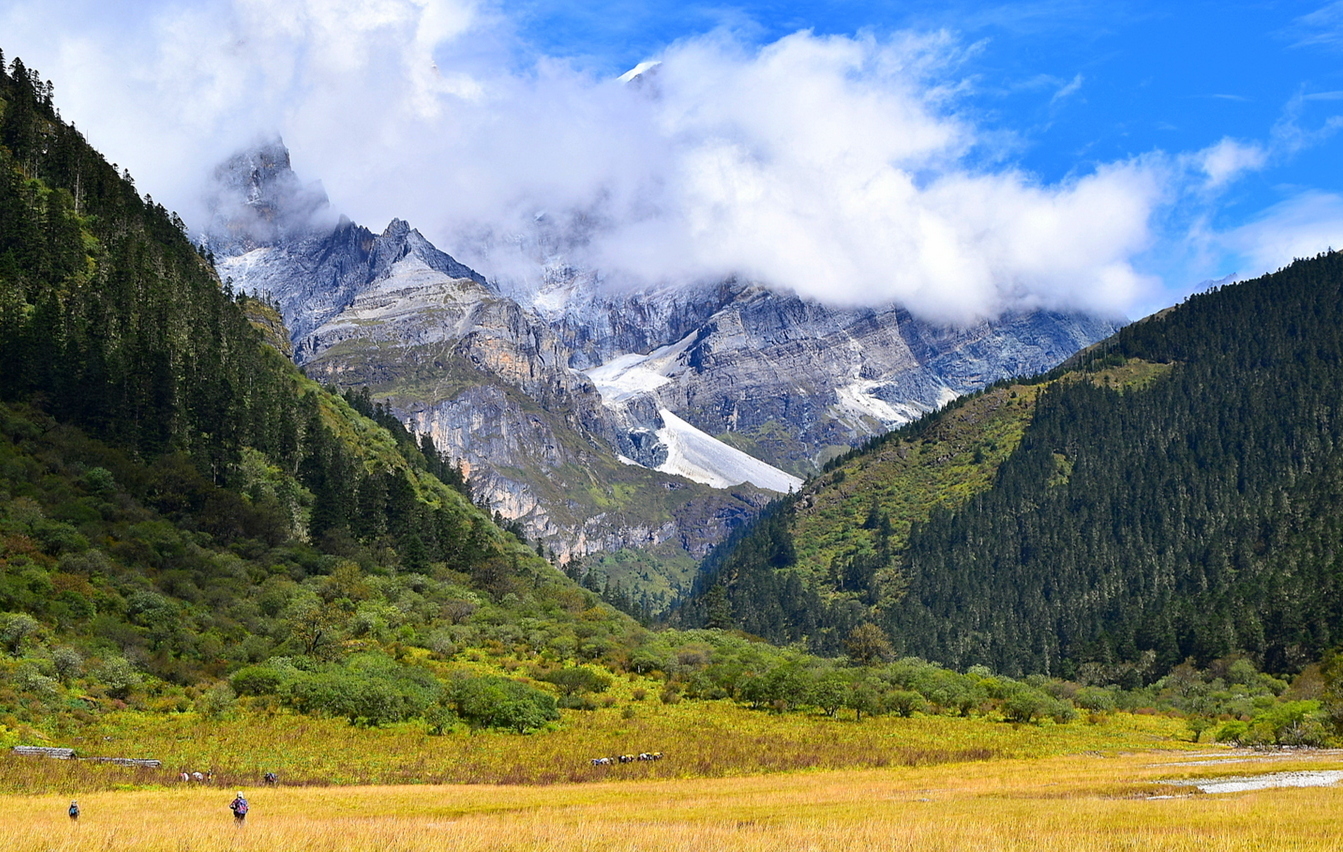 17 Days |From USD 5950 pp

**Please note that the best months to plan this trip are June and October**
This is a rare opportunity to embark on a pioneering trek into one of the most spectacular mountain sanctuaries in Asia. The aim of the expedition will be to follow a new approach route towards the sacred mountains of Yading; three stunning peaks, sanctified by the fifth and most pre-eminent of the Dalai Lamas, that truly deserve the moniker of the original 'Shangri-La'. Indeed, an original photographic account by Joseph Rock (a well-known historical explorer of the region), of his earliest travels to Yading, published in the July 1931 issue of National Geographic, likely inspired the fictional paradise written about by James Hilton in his 1933 novel - Lost Horizon.
And so, trekking with relatively low-grade support, we will explore an 'undiscovered' land of spectacular peaks, forested valleys and pristine lakes, on an 'unscripted' adventure through the wild Tibetan borderlands of western China. Along the way, we will be traversing terrain seldom, if ever, trekked by outsiders before. However, such scenic largesse will not come easy; this trip will therefore best suit relatively experienced trekkers who are seeking a 'first-foray-type' adventure in the spirit of intrepid explorers of yesteryear - far from the Goretex-clad crowds that clog many other established routes in the Himalayas.
In short, this is about as far-removed from a white-labeled Everest base camp trekking tour as you can get!
Please note that you can also view additional images from a previous recce into these beautiful mountains in our
Adventure Diary. 
Participate in one of the first commercial expeditions to trek a pioneering new route through the wilds of eastern Tibet.­
Explore one of the most spectacular and untouched mountain sanctuaries in Asia - with no other trekkers en route.­
Push your limits. Challenge yourself. This is one of the most awesome trekking adventures we­ have ever undertaken.­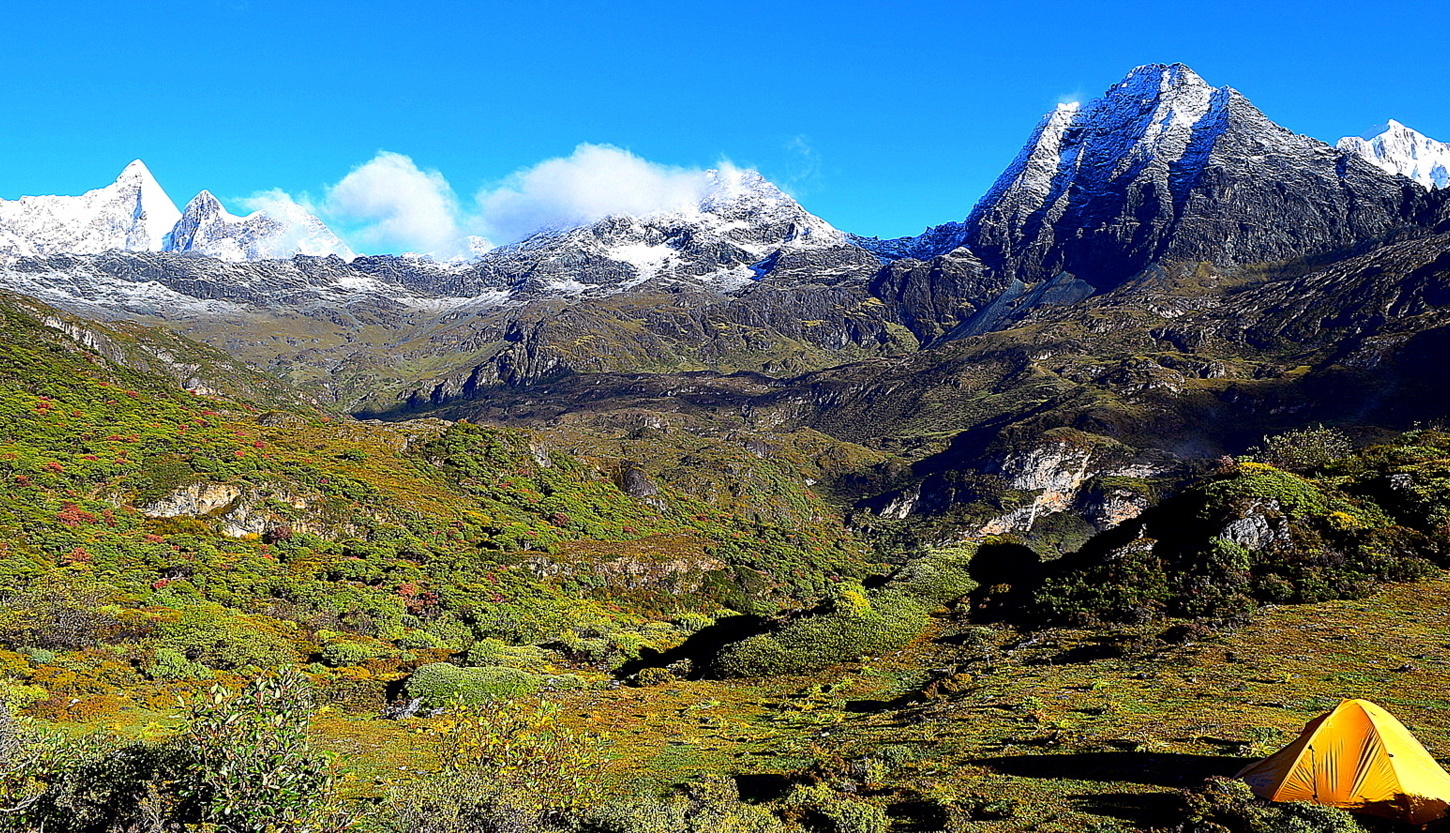 This is a pioneering route through a remote region of eastern Tibet that will require a considerable amount of flexibility and self-reliance from the team. The following is only the outline daily plan.

Fly to Shangri-La (IATA: DIG). Transfer to our comfortable lodge by the old town. Enjoy an introductory team dinner and drinks.­
Visit Songzanlin Monastery and local market. After lunch drive for three hours along a spectacular mountain road to our lodge. Overnight.­
Drive to the village where we will begin our expedition. ­Meet our local guide and muleteers. Overnight in Tibetan farm stay.­
­
Acclimatization trek to gradually climb up and explore the head of the valley. ­Camp at the foot of the first pass.­
Trek over the first pass to descend into a parallel valley on the other side of the ridge. Camp and explore the ­area's lakes and peaks.­
­
Trek through the mountains to our lakeside campsite at the foot of San Jui Pass.­ Explore the surrounding lakes and peaks.­
An epic day's trekking, crossing three passes (highest approximately 4700m) past both 'Black Pearl' and 'Jade' Lake to our next campsite.­
­
Another challenging day's trek.­ A classic Himalayan 'up and downer'­ to our next campsite by the shore of 'Lazybones' Lake.­
­
Another spectacular day's trekking over a huge granite outcrop to 'Sickle Lake'.­ Camp. Today we will get our first glimpse of the sacred peaks of Yading.­
Trek into the next valley before heading north to the foot of Lamala Mountain.­ Visit a local nomadic family herders hut for tea. Camp. ­
­
This is our spare day to give us maximum flexibility on what is a remote, exploratory and relatively high-altitude trek. ­
­
Climb up to a spectacular vantage point with views over the sacred peaks of Yading. After lunch, trek to our next campsite at the foot of the 'Yak Heart' buttress.­
Another epic day's trekking to climb up to the Yak Heart (4800m) before decending to our lakeside campsite overlooking the 'Sentinel'. ­
­
Trek down to our final, spectacular campsite at Yading meadow, with breathtaking views of Mt Jempalyang at the head of the valley.­
Trek down through a beautiful valley which narrows into a steep-sided gorge to our extraction point. Transfer to a small local hotel. ­
Drive back to Shangrila. Relax over a cold beer before enjoying our final farewell dinner. ­Overnight in our favourite boutique lodge.­
Transfer to airport. Fly home. Hope to see you again next time. ­ ­
Please note that Shangri-La is shown on this map as DEQEN.
Rest assured we will be here to advise you on all aspects of preparing for, and participating in, this trip. Here are a few obvious places to start.

Accomodation ­
Will be in a good quality accommodation in Shangrila, local lodges and a Tibetan farmstay. On the trek itself we will be camping.­
Altitude­
The maximum altitude en route will be approximately 4800m so we have included an extra acclimatization day.­
Communication
On the trek there will be no phone coverage but we carry a two-way satellite email and texting device for emergency communication.­
Difficulty
The trek is wild, remote and challenging so everyone needs to be prepared both mentally and physically.­
Equipment ­
We will supply all (rigourously cleaned) camping equipment, although we recommend you bring your own sleeping bag. Please refer to our
typical kit list
for a guide to what else to bring.­
First Aid ­
We carry a comprehensive medical kit, including Diamox and Dexamethazone to treat any signs of altitude sickness. As standard we also have a group search & rescue membership with GEOS.­ ­
Food ­
Mainly Chinese food and supplemented with pasta, cheeses, curries etc. We also include plenty of snacks.­
Flights ­
The trip begins and ends in Shangri-La (IATA: DIG). All guests to arrive in Shangri-La by the evening of Day 1.­
Insurance
All guests must have a comprehensive travel insurance policy that includes emergency medical evacuation. ­As standard we also have a group search & rescue membership with GEOS.­
Support ­
Large rucksacks will be transported by mules so you will only need to carry your day pack while hiking. Generally, a high level of self-reliance and flexibility is required for this adventure.­
­Temperatures
Typically will range between 10 to 25 degrees Celsius during the day but may fall to as low as zero degrees at night.
Toilets & Washing­
On the trek itself we will be camping, so washing and toilet facilities will be wild and fairly basic­.
Visas ­
To join this trip you will require a valid China Visa. Whistling Arrow will send you an 'invite letter' in due course to include with your application.­ Please note that a Tibet permit is NOT required. ­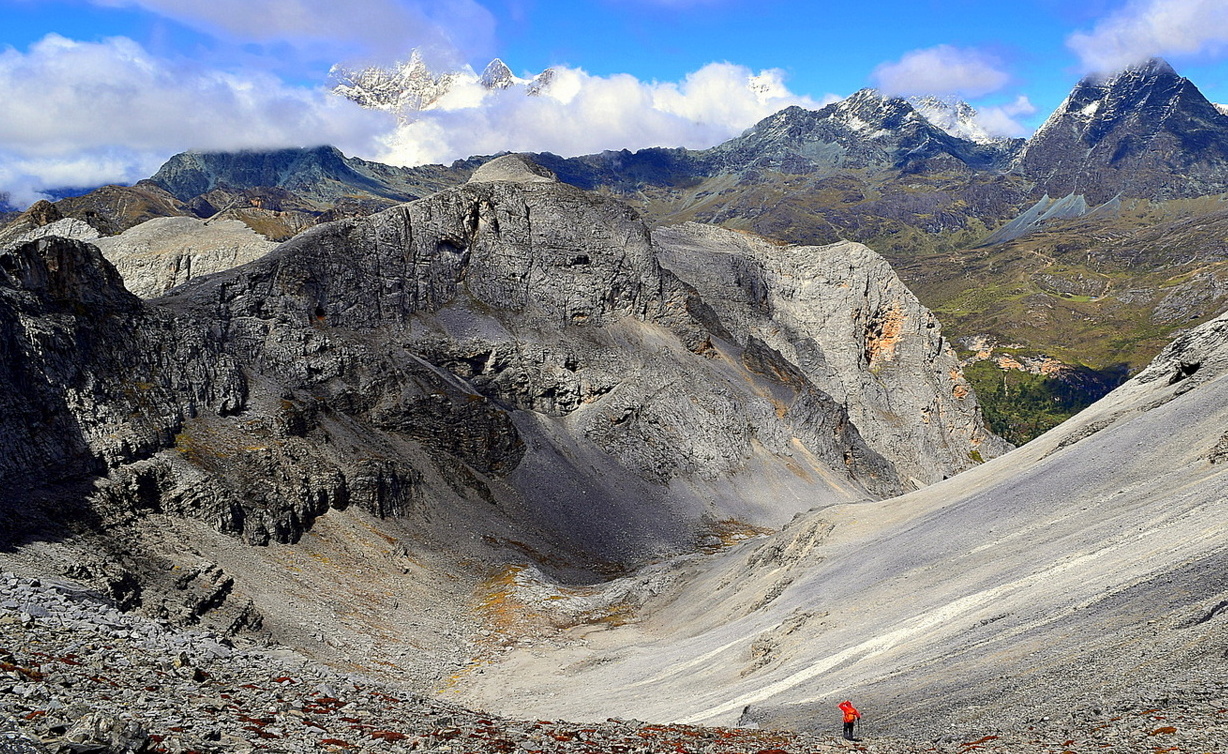 A Final Word On Exploratory Trekking With Us

I was looking to get off the beaten path (I didn't care if there was even a path), experience raw adventure and cultures that no other group had experienced - to go to a place where peaks and lakes remain unknown, untrekked and unclimbed. Such adventures are hard to organise - getting the mules together, arranging contacts with local officials and generally smoothing the administrative and logistical details to get you into the nether reaches of Asia.
In this respect, Adrian is an integral part of the trip - very hands on and knowledgeable - travelling and adventuring with you to hidden valleys, villages and mountain passes where no organized trekking or climbing groups have ever been before. I'm already looking forward to our next wild adventure together.