Welcome to Whistling Arrow
Our aim is straightforward: to create an imaginative portfolio of truly extraordinary adventures. All personally designed and managed, our annual trekking expeditions are defined by a never-ending quest to unearth new and intrepid travel experiences here in Asia; home to the world's most diverse continent.

On our travels, we are also passionate about sourcing distinctive Asian ethnographic art and artefacts: discriminating, collectible pieces that are rooted in age-old artisanal traditions and central to the identity, place and belonging of those that made them, both past and present. Currently, we are showcasing our unique collection of hand-knotted Tibetan rugs in our online store.

We also continue to develop our Asian pre-production and production services for factual, documentary and wildlife filmmakers in the region and are seeking professional collaboration to further develop two conceptual projects in China and beyond. So, please delve into our site and get in touch with any questions you may have. We are always happy to hear from you.
Our scheduled, small group treks are open to everyone to join and displayed in chronological order below. We understand though, that our fixed departure dates may not always work. So, for pre-arranged groups of at least four people, we are happy to try and re-create any expedition to suit alternative dates.
We also design custom, private trips for intrepid famililes and those of you with special interests in the region such as flower-hunting, photography and esoteric Tibetan tantric festivals.
Please note that are fixed departure expeditions for 2017 are now full. Thank you for your support - and please do make a note to review our exciting new 2018 trip calendar when it is launched in November.

You Just Have To Go For It Sometimes

Ignore the little voice in your he­­ad ­­that­­ can list a a dozen reasons why you can't go.

If you choose to not go often enough, eventually you'll wonder where all the time went.
You'll Be In Good, Safe Hands

Gary Goldenberg
Freelance Writer & Global Trekker Extraordinaire, New York.­
As a veteran of 15 guided treks, including 10 in the Himalaya, I know exactly what makes for a top-notch trekking leader. Adrian at Whistling Arrow checks all the boxes, in terms of safety, knowledge, leadership, friendly service, cultural sensitivity, and more. One essential in leading Himalayan treks is flexibility and adaptability, for something is bound go awry. On my trek with Adrian, he showed that he could quickly adapt to changing conditions or client needs, making for a stellar adventure. If you're looking for a full-service company to guide you in Yunnan, eastern Tibet and the greater Himalaya, Whistling Arrow is a wise choice.
Our groups are typically both diverse and international, often starting out as a collection of slightly nervy newcomers united by a collective spirit of discovery and adventure. And yet, without fail, they finish a close-knit and happy bunch: the result of shared challenges and unique experiences.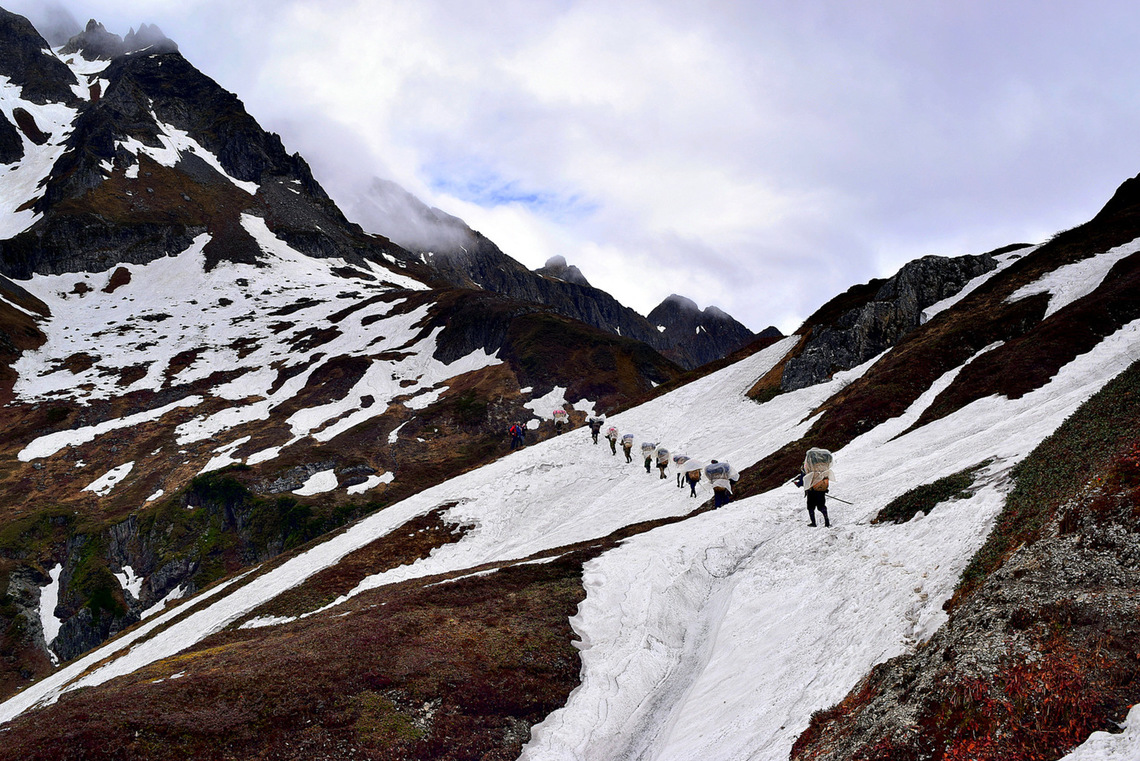 Our Lisu porters crossing the snowy heights of one of the 4000m passes in the wild Gaoligong Mountains recently ­- on what was truly an amazing trip!­