Altai Eagle Hunter Trek: Western Mongolia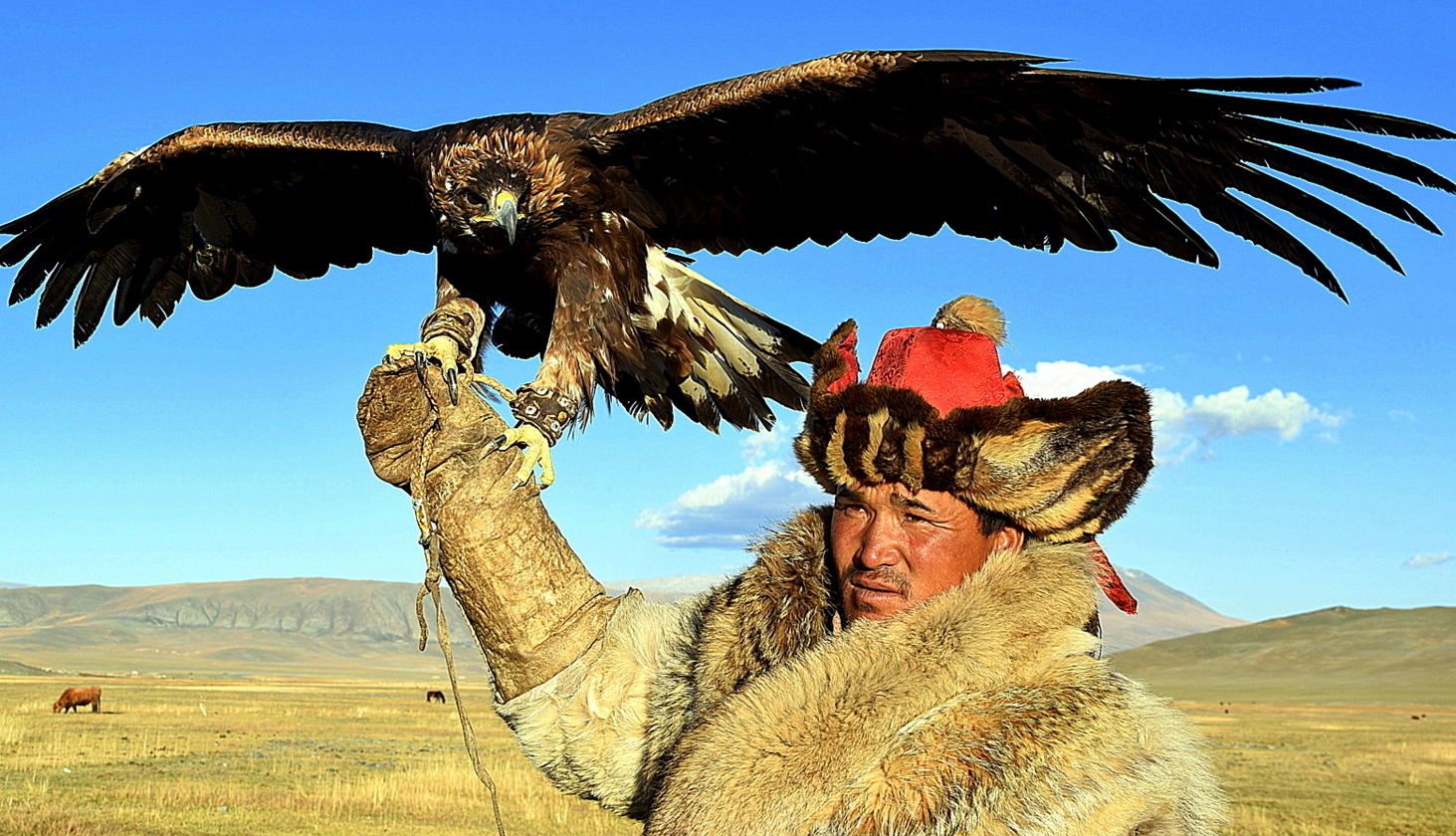 August 11 to 24, 2019 |USD 4650 pp

Due to high demand for this trip, this scheduled adventure is already fully booked. Pre-arranged groups of at least five people can enquire about the possibility of running a similar trek, perhaps in June, July or September


A trip of a lifetime: Five words that arguably make up the most over-hyped tagline in adventure travel. But, imagine if you will, joining a pioneering expedition that will explore a spectacular and unexplored corner of the Altai mountains (that until last year was completely off-limits to outsiders), all the while supported by a bactrian camel train, and exclusively guided by one of the region's fabled eagle hunters. Well, now you're talking.
And there's more. Our team will trek deep into the larch-forested valleys, crystal-clear lakes and snow-capped peaks that straddle the wild border with China - home to snow leopard, brown bears, golden eagles and ibex - and tackle a final trip challenge by summiting a 3500m peak near sacred Ongon Khairikhan mountain that offers a stupendous panorama over the Altai. Finally, at the eagle hunter family ger camp of our trusted friend and guide, we will experience warmhearted Kazakh hospitality and witness an authentic eagle training session as Shohan prepares his young raptor for the winter hunts.
Participate in an expedition that will explore a remote corner of the Altai, only recently opned to trekkers.
Challenge yourself on a remote and intrepid adventure that is equally bold, awe-inspiring, pioneering and ­unique.
Gain immersive access to ­one of the fabled eagle hunters as our good friend, Shohan, guides our team through the Altai.
The Eagle Hunters of Western Mongolia - Training a Young Eagle.
Processing video...
This is a pioneering route through a remote region of western Mongolia that will require a degree of flexibility and self-reliance from the team. The following is only the outline daily plan.

August 11, 2019 ­
Fly to Ulan Bator (IATA: ULN). Transfer to our comfortable hotel near Sukhbaatar Square. Enjoy an introductory team dinner and drinks.­
August 12, 2019 ­
Catch the early morning flight to Ulgii (3 hours).­ Drive for 6 hours to rendezvouz with our camels and our guide, Shohan, the eagle hunter on the shores of 'Black' Lake.­
August 13, 2019­
Trek for 7 hours over the first panoramic pass and descend to our second campsite on the shores of the spectacular Shergaty Lake. ­
August 14, 2019 ­
Trek for 6 hours along the valley and over Yolt Pass.­ Descend to our campsite by a stream at the foot of a large escarpment.­
August 15, 2019 ­
Trek for 6 hours down the valley, before climbing up through larch forest to a lookout point.­ Descend and trek up to our riverside campsite.­
August 16, 2019 ­
Trek for 6 hours, over another mountain pass before descending to our next campsite alongside a family of nomads.­ This area is notable for it's wild eagles and ibex.­
August 17, 2019
A spare day to trek further into this restricted mountain sanctuary to explore­ areas never before trekked by outsiders.­
August 18, 2019­
Trek an exploratory route for 6 hours, first heading south before heading into 'Dead Goat' Valley and our campsite by a small stream.­
August 19, 2018 ­
Trek for 7 hours, first up the valley and over another pass before descending to the shores of Dayan Lake. The views from the pass are breathtaking. ­
August 20, 2019 ­
Trek for 6 hours, through a local village and then onwards towards Shohan's summer ger camp at the foot of sacred Mt Ongon Khairakhan. ­
August 21, 2019 ­
Exploratory 7 hour trek down the valley, before our final challenge of the trip - the summiting of a 3500m peak (home to snow leopard) overlooking the Chinese border.­ ­
August 22, 2019 ­
A spectacular 6 hour drive back to Ulgii.­ Overnight in a comfortable new hotel and enjoy dinner, drinks and traditional Kazakh music and dance.­
August 23, 2019
Catch the morning flight back to Ulan Bator. Transfer to our hotel and enjoy a final team dinner on a verandah overlooking the Chojin Lama Temple.­
August 24, 2019
Transfer to the airport and fly home. Hope to see you again next time.­
Rest assured we will be here to advise you on all aspects of preparing for, and participating in, this trip. Here are a few obvious places to start.

Accomodation ­
Will be in good quality hotels in Ulan Bator and Ulgii. On the trek we will be camping in large, high-quality tents. On the final evening of the trek we will stay in gers.­
Altitude­
The maximum altitude en route will be approximately 3500m when we embark on the trip's final summit challenge.­
Communication
On the trek there will be no phone coverage but we carry a two-way satellite email and texting device for emergency communication.­
Difficulty
The trip will be relatively challenging so everyone needs to be properly prepared, both mentally and physically. ­
Equipment ­
We will supply all camping equipment and camp assitants to help with tent work. Please refer to our
typical kit list
for a guide as to what else to bring.­
First Aid ­
We carry a comprehensive medical kit, including Diamox to treat any signs of altitude sickness, although this is not expected to be an issue on the trek.­
Food ­
A good variety of food will be prepared by our expedition cooks. Lunches will be picnic style. Breakfast & dinner will be served in our large dining tent.­
Flights ­
The trip begins and ends in Ulan Bator (IATA: ULN). All guests to arrive in Ulan Bator by the evening of August 11.­ Domestic flights are included.­
Insurance
All guests must have a comprehensive travel insurance policy that includes emergency medical evacuation.
Support ­
The expedition will have a full support crew. On the trek your large rucksacks will be transported by camels. You only need to carry a day pack while hiking. ­
­Temperatures
Typically will range between 10 to 20 degrees Celsius during the day, but may fall to as low as zero degrees at night. In August the weather should be fine.­
Toilets & Washing­
On the trek itself we will be camping, but basic washing facilities and toilet tents will be provided.­
Visas ­
Certain nationalities will require a valid Mongolia visa to join this trip. Whistling Arrow will send you an 'invite letter' in due course to include with your application. ­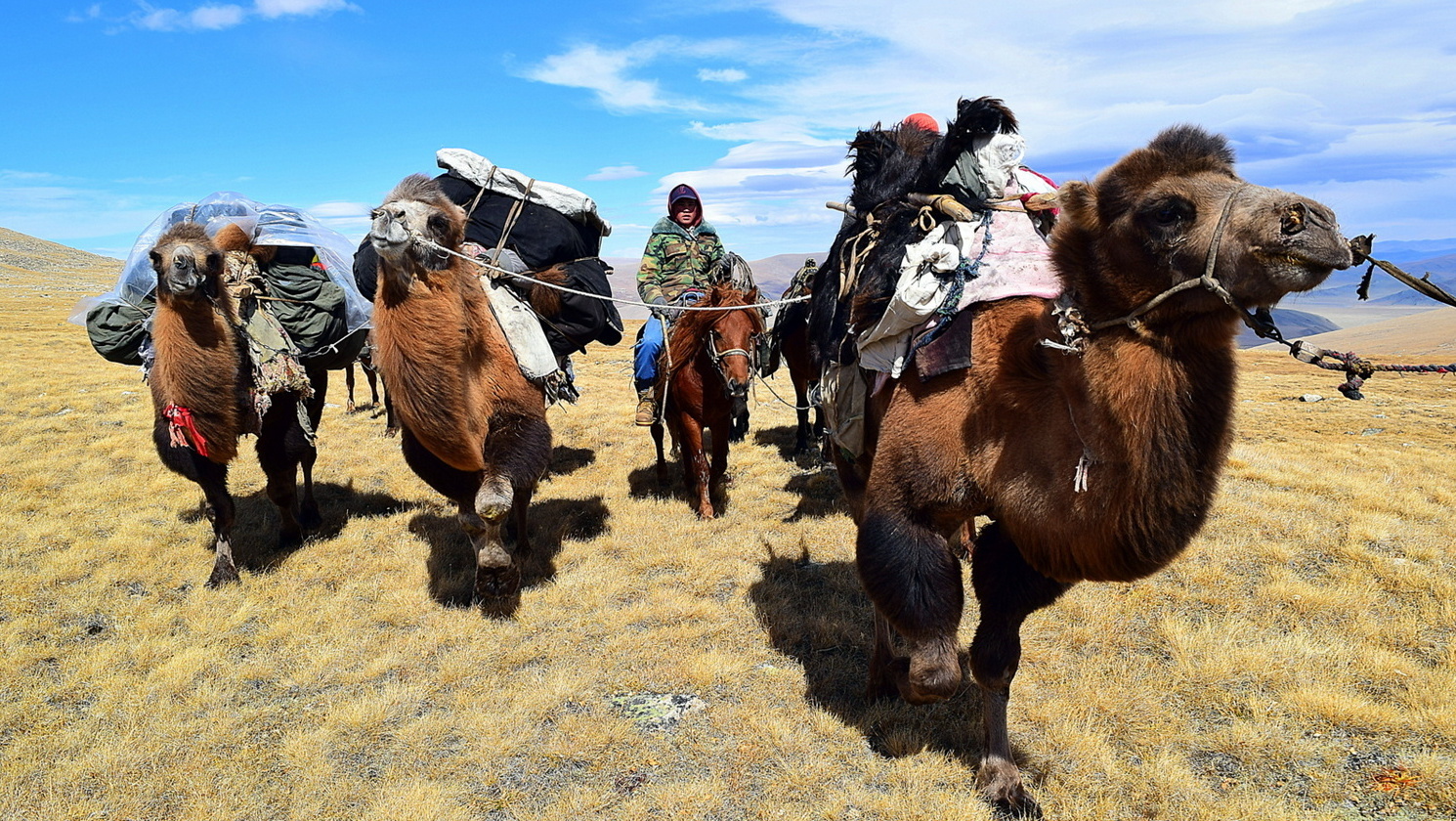 We couldn't do it without them - during the adventure trek we will be supported by a team of (occasionally grumpy) bactrian camels.­
A Final Word From A Previous Guest

Our two weeks in Mongolia's Altai Highlands were truly spectacular. The landscape, the nature and the people together made this a trip of a lifetime. Most importantly, none of this would have been possible without Adrian and his team at Whistling Arrow. Both planning and execution were spot on. Our route had been carefully thought through and as we trekked over some of the most stunning landscape we were well looked after at all times.

Adrian's own hands-on approach also made the trip special. He was a great guide and companion over our days together. Of course the key question is "would you do it again or a similar trip (with Whistling Arrow) and the emphatic answer is YES.

Simon