Glamping In The Fann Mountains Of Tajikistan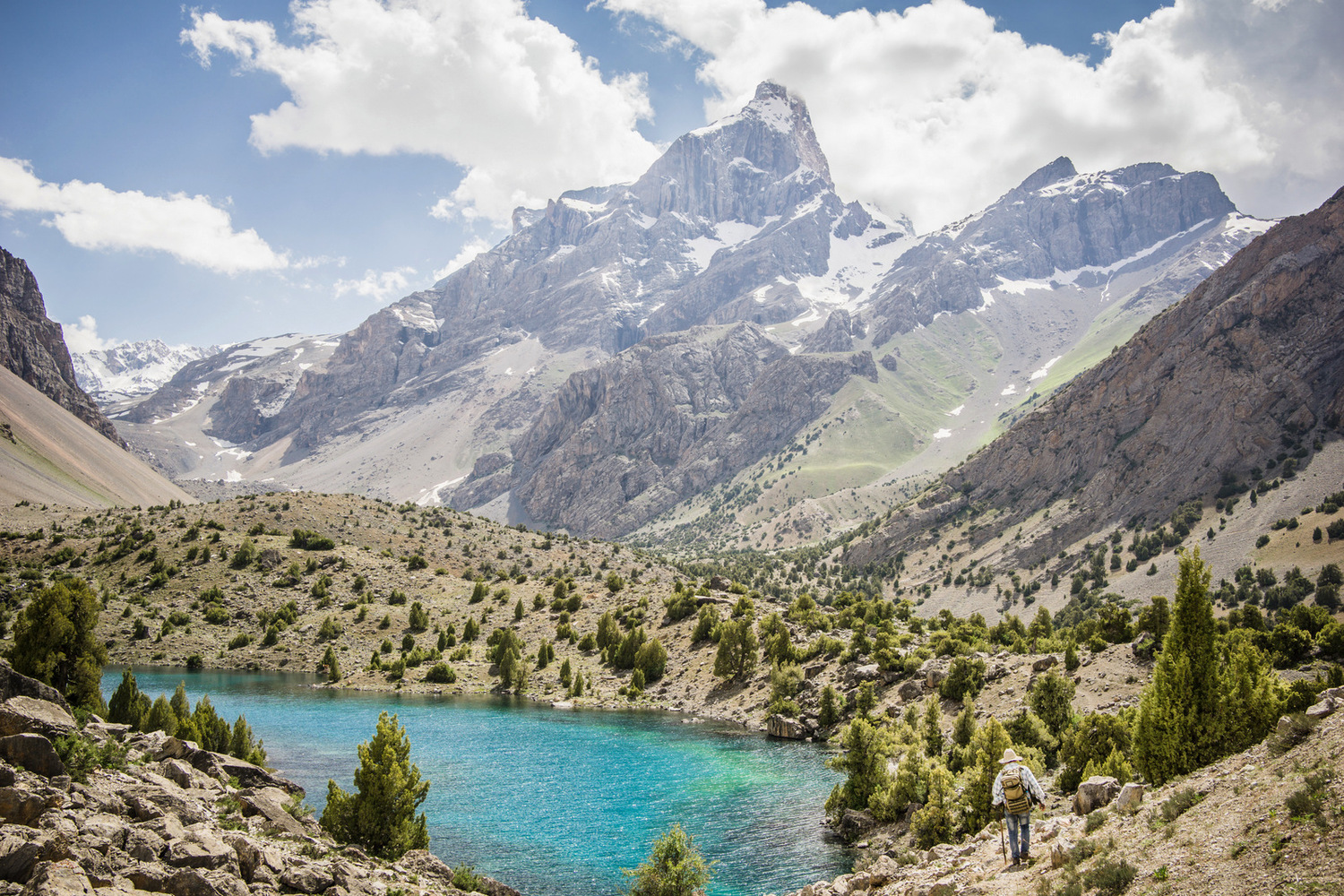 Best time to go: mid-June to mid-July & mid to late September
Experience, in comfort, the majesty of these magnificent landscapes with their rugged, snow-capped peaks and crystal-clear lakes; shimmering glacial 'pearls' steeped in the history of the great Alexander. We're a big fan of this undiscovered regional gem, and know you will be too.
With our big bell tents and as many comforts as we can muster and move my mule, this fully-supported 'glamping' adventure has been designed for private groups (and families) keen to explore off-the-beaten trail, but with a few added frills. So, we can have you waking up in a real bed, lined with fresh linen, and gazing out over the Fann Mountains flawlessly reflected in the waters of the range's fabled turquoise lakes. And that's just the start. From two spectacularly-located lake-shore camps, venture out on explorations of the surrounding landscape, hiking up juniper-scented shepherds tracks, and over wonderfully panoramic passes, before enjoying al-fresco meals while the sun sets, and later, under the stars, a few songs around a roaring fire. Add in the rich cultural and historical heritage (we love the bustling bazaars and colourful textiles) of the ancient Silk Roads, and you can see why we're a fan.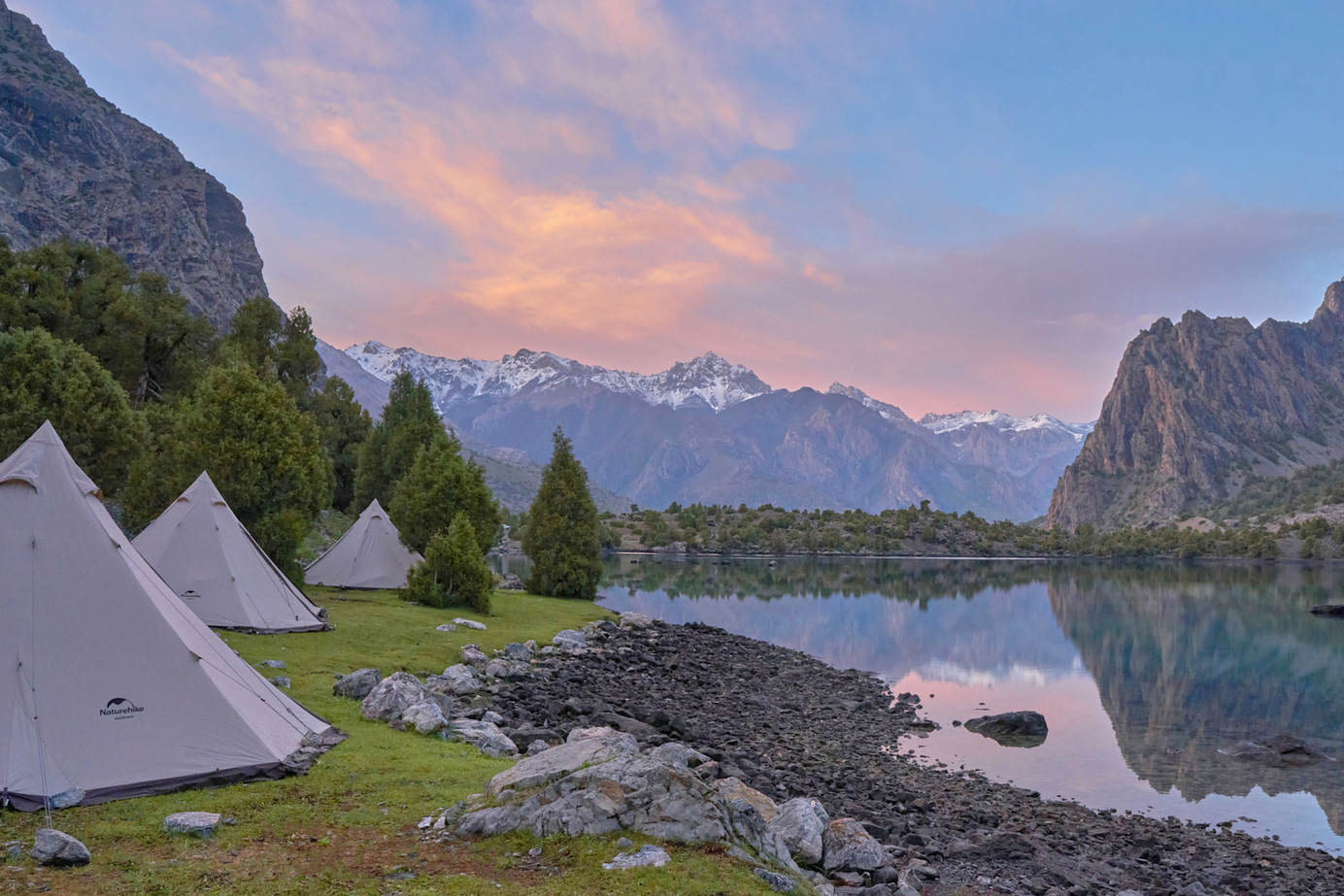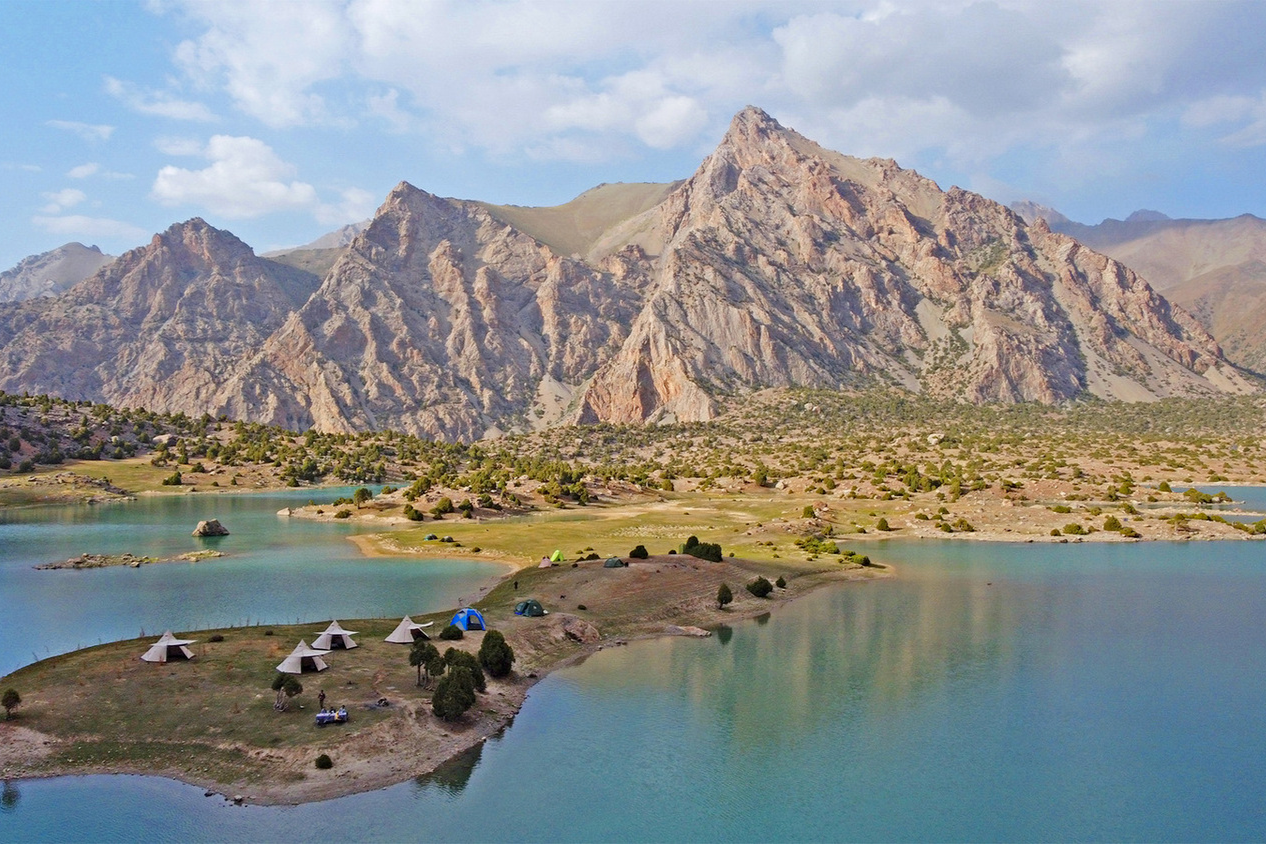 The terrain in the Fann Mountains is not overly challenging, nor are the altitudes, and so while still wild and remote, this adventure works well for families, and slightly more leisurely groups of friends.
The following is only the outline of a provisional daily plan. Each trip can be individually customised to suit your private group.
Fly to Dushanbe (IATA: DYU). Transfer to your comfortable hotel, and enjoy some cultural sightseeing, followed by dinner and drinks.­
Drive to Iskanderkul, a spectacular lake named after Alexander the Great. Enjoy a short hike to a waterfall, before overnighting in local cottages (with private bathrooms) on the lake shore.­
After breakfast, drive over Anzob Pass to Artuch village in time for lunch.­ In the afternoon, embark on a lovely 3 hour hike to ­Ziyorat Lakes. Return to stay the night in a comfortable fixed camp in Artuch.­
Meet your mule team, and trek for 4 hours through stunning scenery to reach the shore of Kulikalon Lake, where your glamping site will be set up in anticipation of your arrival. Spend your first night under canvas.
Aftare breakfast embark on a spectacular circular hike that explores a ring of nearby lakes. In the evening enjoy a bonfire, BBQ, and perhaps even a song and dance before once again having a comfortable night's sleep at camp.­
After breakfast, begin your ascent of Loudan Pass; a long climb to the top, but absolutely worth it, with a beautiful panorama of the surrounding peaks and lakes. Descend to your campsite by Alaudin Lake. Sleep under canvas.­
Today is a day for relaxing, and perhaps a little local exploration, with a gentle morning wander around the lake, and a lazy al-fresco lunch. ­ The afternoon is set aside for taking it easy with a book, a beer, or perhaps both.­
­After breakfast, trek for about 4 hours ascending to Mutnoe Lake (3,520m). The views from the top are breathtaking, with great views in every direction. Hike back to camp for another well-provisoned al-fresco dinner.
­
­Time to leave the mountains behind and journey to Khujand, an ancient city with a history dating back Alexander the Great. On the way visit Istaravshan, a town founded by Cyrus the Great in the 6th century BC, and there, visit local craftswomen and blacksmiths. Overnight in the best hotel in Khujand.­


After breakfast, visit Khujand's main Panjshabe Bazaar, a small workshop which produces traditional Tajik textiles before having lunch in a Tajiki house. After lunch visit a women's silk textile workshop before driving about 3 hours to Tashkent (in Uzbekistan) . Overnight in luxury hotel.­


Transfer to Tashkent airport (IATA: TAS) and fly home. Hope to see you again next time.­