New 'Northern Treasures' Trek: Eastern Nepal

November 10 to 29, 2017 |

USD 4450 PP



**
Please note that this page will be updated shortly with details of our follow up expedition in November 2018. We are currently awaiting confirmation of the festival dates for 2018 in the new Tibetan calender. If you are interested in this expedition do please get in touch and we will contact you as soon as the new trip details are finalized. Thanks for your patience

**

First things first. This is a trekking adventure that you just won't find anywhere else. It is only made possible by our relationship with the villagers of Olanchung Gola, a traditional weaving community in the wild Tibetan borderlands of northeastern Nepal, tucked away between the world's two most easterly 8000m+ peaks, Kanchenjunga and Makalu.

The trip is also not for everyone. The unique expedition will cross the exposed 5160m Lumbasumba La, explore one of the most remote historical gateways into southern Tibet and traverse back to the lush cardomom-coated Tamor Valley via the seldom-trekked Thang La. It is a wilderness adventure designed for relatively intrepid trekkers who are keen to avoid the crowds that clog the well-trodden routes to Everest and Annapurna.

But that's just the half of it. The village and surrounding peaks shelter a number of cultural gems. Foremost among them is Deki Chholing, a 450 year old Nyingma-sect monastery that houses a treasure trove of ancient Buddhist texts and hosts an annual Tibetan Buddhist festival, in the Dzogchen 'Northern Treasures' tradition. Fully immersing ourselves in the festivities, we will participate in fascinating tantric rituals, experience fierce-looking masked deities and witness the secretive 'Black Hat' Cham dance, usually only performed by monks, but here, because of the small size of the gompa, lay people are also involved.

Last but not least, we also have special permission to trek up to the snowy abode of the snow leopard (where up to eight cats are believed to roam) around Singjengma Pokhari, a sacred lake never before visited by outsiders, and where those of strong faith are believed to see their future karmic path reflected in it's crystal clear waters.
Traverse the wild and remote Lumbasumba Pass and discover a seldom-trekked route connecting the giant, majestic peaks of Kanchenjunga and Makalu.


Witness a seldom-seen Tibetan Buddhist festival and immerse yourself in the esoteric tantric culture.



Join the first group to be granted exclusive permission from the local community to explore their sacred lake, hidden away in the high Himalaya and home to the elusive snow leopard.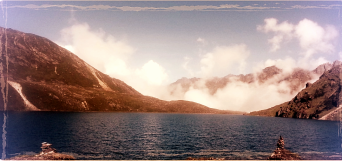 A rare old picture of the sacred lake looking south towards Olanchung Gola - to the west lie the twin 5700m snow-capped peaks­ of Syamdo Kangri­.
Below is a brief daily summary. If you are interested in more detailed information about this new route please email us privately.

Dates
Route Description
Additional Information
Day 1: November 10, 2017

Fly to Kathmandu. Transfer to our garden lodge in Boudhanath and explore the lovely Tibetan enclave.

Welcome drinks and dinner.
Day 2: November 11, 2017

Circumambulate Boudhanath stupa and visit the nearby 5th Century Hindu temple at Pashupatinath.

Apply for the restricted area
trekking permits.
Day 3: November 12, 2017

Early morning flight across eastern Nepal by prop plane to Suketar. Views of Everest en route.

Bumpy 4 hour drive to Tewa village, followed by a short hike to Chhiruwa. Camping.
Day 4: November 13, 2017

Trek to Gowatar (1800m) following the Tamor River through beautiful cardamom forest.

5 hours trekking. Camp in large field below Lungthung Gompa.

Day 5: November 14, 2017

Hike up to gompa, visit the local head lama (a friend of ours) and have tea in his house. Trek to Illadanda (2300m)

Short 2 hour trek after lunch.
Overnight in local lodge run by hospitable young Tibetan family.

Day 6: November 15, 2017

Trek past cascading waterfalls and stunning rhododendron/bamboo forest to Olanchung Gola village (3100m)

8 hours trekking. Our first challenging day. Camp adjacent to our friend's family home.

Day 7: November 16, 2017

Trek up to a meditation cave reputedly used by Padmasambhava and witness the local Tibetan Buddhist festival.

Short acclimatization hike, followed by immersive access to local tantric ceremonies. Camping.

Day 8: November 17, 2017

Trek to a sacred site on the far side of the valley. Witness a second day of arcane rituals and Cham dancing.

Another short acclimatization hike and a personal blessing in Deki Chholing Gompa.Camping.
Day 9: November 18, 2017

Trek through fresh pine and rhododendron-covered hills to the lovely Singjengma Khola.

6 hours trekking.
Camping for the first time at 4000m in a beautiful remote valley.
Day 10: November 19, 2017

Trek up to a sacred (and never before visited) lake framed by snow-capped peaks (4700m)

Approximately 2-3 hours climb up to the lake. Explore the lake and return to our campsite.
Day 11: November 20, 2017

Trek back to Tamor Bridge, before heading north west up to to Sanjung (4150m)

5 hours trekking. Camp in a beautiful high altitude yak meadow.

Day 12: November 21, 2017

Trek up through rhododendron swathes and snowy wilderness to the stunningly-situated Pass Camp.

7 hours of challenging trekking. Camp at 4650m on more rocky ground.
Day 13: November 22, 2017

Trek over the wild and spectacular Lumba Sumba Pass (5160m) to the upper reaches of the Arun Valley.

Early start to trek over the frozen snow. 7-8 hours of challenging trekking. Camp in meadow at 4000m.
Day 14: November 23, 2017

Exploratory trek along Modek Chheju Khola to the remote Umbak La. Beautiful views down into Tibet.

6 to 7 hour return trek to the Tibetan border. Return to our beautiful campsite at Miduxchhre.

Day 15: November 24, 2017

Trek down through rhododendron forest to the tiny village of Thudam. Head south into Syanging Khola.

5 to 6 hours trekking.
Camp in a remote valley near the foot of the Thang La.

Day 16: November 25, 2017

Trek over the Thang La Pass (4900m) and down to the village of Topkegola (3720m). Visit local lake-side shrine.

6 to 7 hours of challenging, remote wilderness trekking. Camp in the small village of Topkegola.

Day 17: November 26, 2017

Trek down through the wild Mewa Khola Valley to the village of Dunggin (2600m).

6 to 7 hour trek down through a remote forested valley. Camping.
Day 18: November 27, 2017

Jeep transport through beautiful Himalayan foothills to the town of Taplejung.

Lovely 3 to 4 hour drive. Overnight in the best hotel in town.

Day 19: November 28, 2017

Fly back to Kathmandu from the nearby Suketar Airport.

Fly back to the capital. Overnight in our comfortable garden lodge in Boudanhath. Pizza and beers on us!
Day 20: November 29, 2017

Transfer to the airport. Fly home.


Safe travels and see you next time.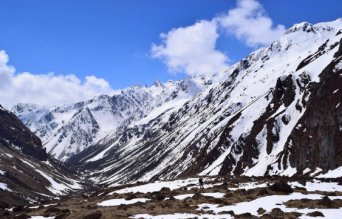 Trek to ancient Tibetan villages, witness authentic Vajrayana culture, have tea with a lama and ­explore a hidden sacred lake - oh, and of course - spectacular Himalayan wilderness!­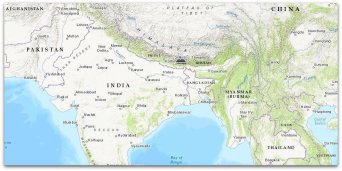 The mountain icon denotes the location of the expedition in the remote borderlands of eastern Nepal and Tibet between the twin giants of Makalu and Kanchenjunga.­
Altitude:

the maximum altitude on the trek is 5160m when we cross the Lumbasumba Pass on day 13 of the trip.

Temperatures

: typically range from 5 to 20 degrees Celsius during the day and can fall to below freezing at night at higher altitudes.


Duration:

the trip is 20 days in total with 14 days of actual trekking (including two short acclimatization hikes at the festival in Olanchung Gola).

Difficulty:

the trip is challenging and we will be trekking in remote mountain wilderness - so you need to be physically fit and mentally strong.

Support

: relatively high-level support so little or no tent-work required. All luggage and equipment will be carried by porters.


Food:

mainly Western/Asian prepared by our expedition cook and including some old Nepali favourites like Dal Bhat.


Vegetarians:

we can accomodate vegetarians no problem and have done so many times before.


Accomodation:

is in boutique lodges, rustic farmhouses and camping in tents.

Wash:

we can either wash in the rivers and streams when the sun is out or use our small portable shower (with shower tent).

Toilet:

we can either nip behind a bush or use the toilet tent.

Communication:

for most of the trek there is no phone signal but we carry a two-way satellite email and texting device.

First Aid:

we carry a comprehensive medical kit including Diamox and Dexamethazone for the treatment of altitude sickness.

Equipment

: we will provide all camping equipment. Please refer to our typical kit list for a guide to suitable trekking gear.


Insurance:

all guests must have a comprehensive travel iinsurance policy that includes emergency medical evacuation up to 4000m.

Flights

: the trip begins and ends in Kathmandu (IATA: KTM). All guests must arrive in Kathmandu by the evening of November 10.

All inclusive, except local tips and flights. To confirm a booking we will require a 30% deposit with the final balance payable 30 days before the departure date.
Unfortunately this trip is now full
Group size for this adventure has been limited to an exclusive group of just 8 guests.
We will provide all the information you need to book and prepare for the trip including payment instructions, advice on flights, what to bring and safety considerations e.g. acclimatization.

New 'Northern Treasures' Trek |
Eastern Nepal