'Northern Treasures' Trek: Eastern Nepal

2018 Nepal Expedition: 'Northern Treasures' Trek
Processing video...
November 3 to 18, 2018 |USD 5850 pp



**Please note that this trip is now completed, and we are currently awaiting confirmation of the 2019 festival dates before deciding whether to run the trip again next year. A brief photo journal of this trip can be viewed in our Adventure Diary **


First things first. This is a trekking adventure that, as far as we know, is exclusive to Whistling Arrow. It is only made possible by our longstanding relationship with the villagers of Olanchung Gola, a traditional weaving community in the wild Tibetan borderlands of northeastern Nepal, tucked away between the world's two most easterly 8000m+ peaks, Kanchenjunga and Makalu. The trip is also not for everyone. The unique expedition will cross the exposed 5160m Lumbasumba La, explore one of the most remote historical gateways into southern Tibet and traverse back to the lush lower Arun Valley via both the seldom-trekked Thang La Byanjang, and the remote sherpa village of Topkegola.
 It is a wilderness adventure designed for relatively experienced and intrepid trekkers who are keen to avoid the crowds that clog the well-trodden routes to Everest and Annapurna. But that's just the half of it. The village and surrounding peaks shelter a number of cultural gems. Foremost among them is Deki Chholing, a 450 year old Nyingma-sect monastery that houses a treasure trove of ancient Buddhist texts and hosts an annual Tibetan Buddhist festival, in the Dzogchen 'Northern Treasures' tradition. So, fully immersing ourselves in the festivities, we will also participate in fascinating tantric rituals, experience fierce-looking masked deities and witness the secretive 'Black Hat' Cham dance, usually only performed by monks, but here, because of the small size of the gompa, lay people are also involved.
Last but not least, we also plan to trek up to the snowy abode of the snow leopard (where up to eight cats are believed to roam), explore a sacred lake never before visited by outsiders, and access the trailhead at Olanchung Gola via a thrilling, privately chartered helicopter flight across the Himalayas. All this, within a relatively compact 16 day trip.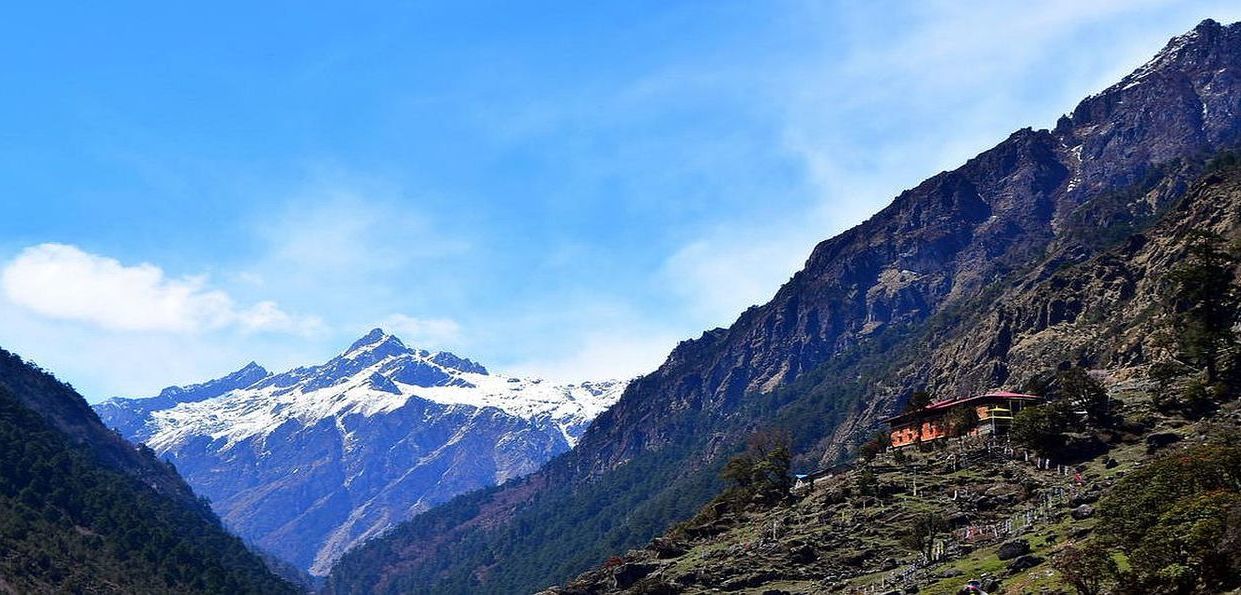 Please note that you can also view additional images from a previous recce to Olanchung Gola in our Adventure Diary.
Participate in a compact & pioneering expedition to explore the 'hidden' Tibetan borderlands of eastern Nepal.
Enjoy a helicopter ride across the Himalayas & gain immersive access to a local tantric festival & its esoteric rituals.
Forge a new route over 3 spectacular passes ­via the remote villages of Olanchung Gola, Thudam & Topkegola.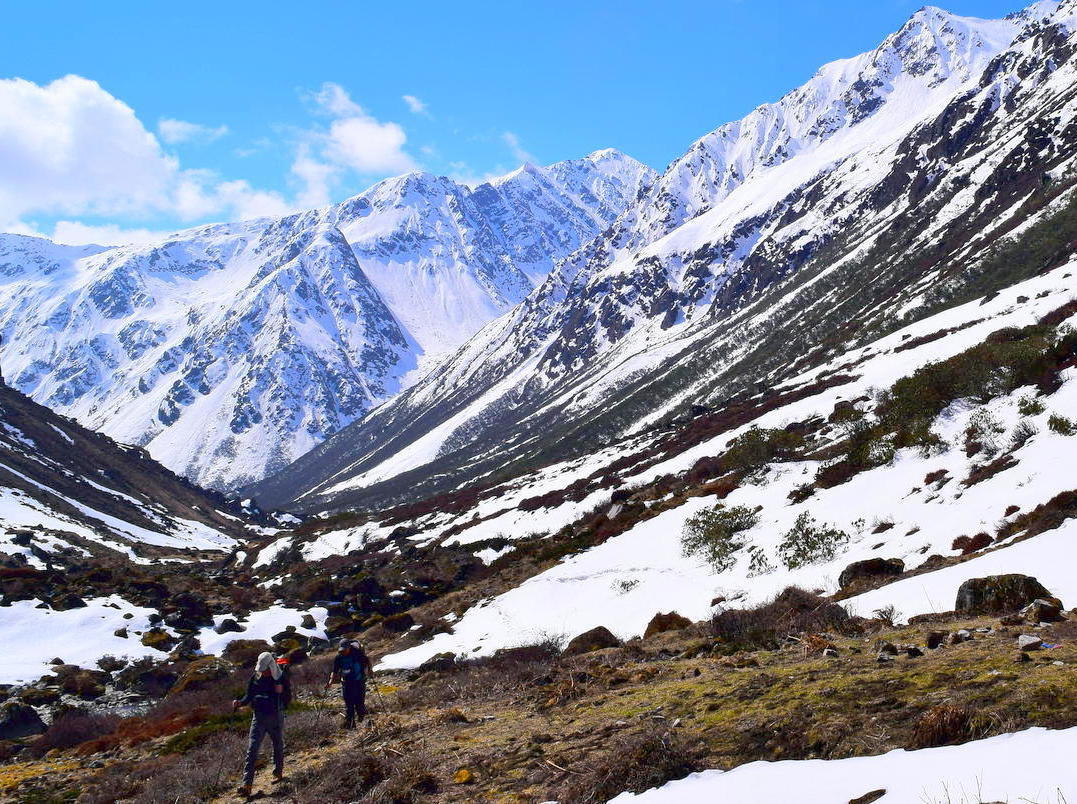 This is a pioneering route through a remote region of eastern Nepal that will require a considerable amount of flexibility and self-reliance from the team. The following is only the outline daily plan.

November 3, 2018 ­
Fly to Kathmandu (IATA: KTM). Transfer to our garden lodge in Boudenath and explore the lovely Tibetan enclave. Enjoy an introductory team dinner and drinks.­
November 4, 2018 ­
Today our local guide will apply for restricted area permits, while we circumambulate Boudenath stupa ­and visit the nearby 5th Century Hindu temple of Pashupatinath.
November 5, 2018­
Morning flight across the Himalayas (passing Mt Everest) by private helicopter to Olangchung Gola village (3100m). Meet our hosts, local guide and porters, before spending the afternoon participating in the local Tibetan festival.
November 6, 2018 ­
Short acclimatization hike up to a meditation cave reputedly used by Guru Rinpoche. Spend the rest of the day once again enjoying the climax of the local tantric festival. ­
November 7, 2018 ­
Trek for 7 hours up through forest and mountains to our next beautiful campsite at Sanjung ­(4100m). We also have the option of using tomorrow's spare day before Sanjung to explore nearby sacred ruins.
November 8, 2018 ­
Today is a flexible day to use either before or after Sanjung to explore nearby sacred ruins or a 'hidden' lake revered locally. Our final decision will depend on the weather and our acclimatization requirements.
November 9, 2018 ­
Assuming we are at Sanjung, trek for 7 hours up through rhododendron forest and stunning high mountain scenery to the spectacular Pass Camp (4650m).­
November 10, 2018 ­
Challenging 7 to 8 hour trek over the wild and spectacular Lumbasumba Pass (5160m), with views of both the Kanchenjunga and Makalu ranges, to the upper reaches of the Arun Valley. Camp at 4100m at the base of Lase Danda.­
November 11, 2018 ­
Trek down through rhododendron forest to the remote Tibetan hamlet of Thudam before heading south into Syanging Khola. Trek for approximately 6 hours to camp at the foot of the Thangla Bhanjyang Pass. ­
November 12, 2018 ­
Trek over the pass (4700m), past Thangla Lake to descend down to the remote sherpa village of Topkegola (3720m). ­Today's exploratory wilderness trekking should take 6 to 7 hours. Camp by the village.
November 13, 2018­
Explore the 'undiscovered' peaks and sacred lakes around Topkegola, including a nearby holy shrine visited by local pilgrims in summer. Return to the previous night's campsite by the village. ­
November 14, 2018 ­
Trek for 7 hours up over a third and final pass (4800m) before descending down through the wild Ikhuwa Khola Valley to camp by a small tributary of the Arun River. Along the way we will be keeping an eye out for red pandas.
November 15, 2018
Trek for 6 hours down towards the main Arun River and the tiny Gurung hamlet of Chasuwatar. En route, we should once again catch a glimpse of the fabulous bird life in this region. Camp by the village.
November 16, 2018
2 to 3 hour trek to the Arun River and the village of Simma where there is a small dirt road. After lunch, drive for 4 to 5 hours through spectacular Himalayan foothills to Tumlingtar. Overnight in local hotel
November 17, 2018 ­
Catch the daily flight from Tumlingtar back to Kathmandu. Overnight once again in our garden lodge in Boudenath. Luxuriate in hot showers and gorge on great pizza and cold beer. ­
November 18, 2018
Transfer to the airport and fly home. Hope to see you next time. ­
Rest assured we will be here to advise you on all aspects of preparing for, and participating in, this trip. Here are a few obvious places to start.

Accomodation ­
Will be in a good quality lodge in Kathmandu and a basic local hotel in Tumlingtar. On the trek itself we will be camping.­
Altitude­
The maximum altitude en route will be approximately 5160m so we have included two extra days that can be used as spare acclimatization days if needed.­
Communication
On the trek there will be no phone coverage but we carry a two-way satellite email and texting device for emergency communication.­
Difficulty
The trek will be challenging so everyone will need to be properly prepared both mentally and physically.­
Equipment ­
We will supply all camping equipment. Please refer to our
typical kit list
for a guide to what else to bring.­
First Aid ­
We carry a comprehensive medical kit, including Diamox and Dexamethazone to treat any signs of altitude sickness. Please note that Diamox will probably be a useful preventative on this trip.­
Food ­
Mainly Nepali and Western food prepared by our expedition cook. We also will include plenty of snacks etc
Flights ­
The trip begins and ends in Kathmandu (IATA: KTM). All guests to arrive in Kathmandu by the evening of November 3.­
Insurance
All guests must have a comprehensive travel insurance policy that includes emergency medical evacuation.
Support ­
Your large rucksacks will be transported by porters so you only need to carry your day pack while hiking. ­The individual baggage allowance on the helicopter flight will be 15kg.
­Temperatures
Typically will range between 5 to 25 degrees Celsius during the day but may fall to as low as minus 5 degrees at night. In November, the weather should be stable and sunny during the day.
Toilets & Washing­
On the trek itself we will be camping, so washing and toilet facilities will be wild and fairly basic­, although we will carry a toilet tent.
Visas ­
Nepal visas can either be applied for in advance, or purchased and processed on arrival at Kathmandu airport.
The tiny Tibetan hamlet of Thudam, located in the upper Arun River Valley - one of the most remote 'villages' in all of Nepal.­
A Final Word From Olanchung Gola

'Happy to hear that you are coming once again. We love our village. It's precious to us, and we are so proud of our distinct culture, language, traditions and festivities like 'Phurdup' (the festival) and are honoured to share them with your guests.'

Tashi Delek.

Tenzing (Village Head)