Perambulating The Pyrenees: France & Spain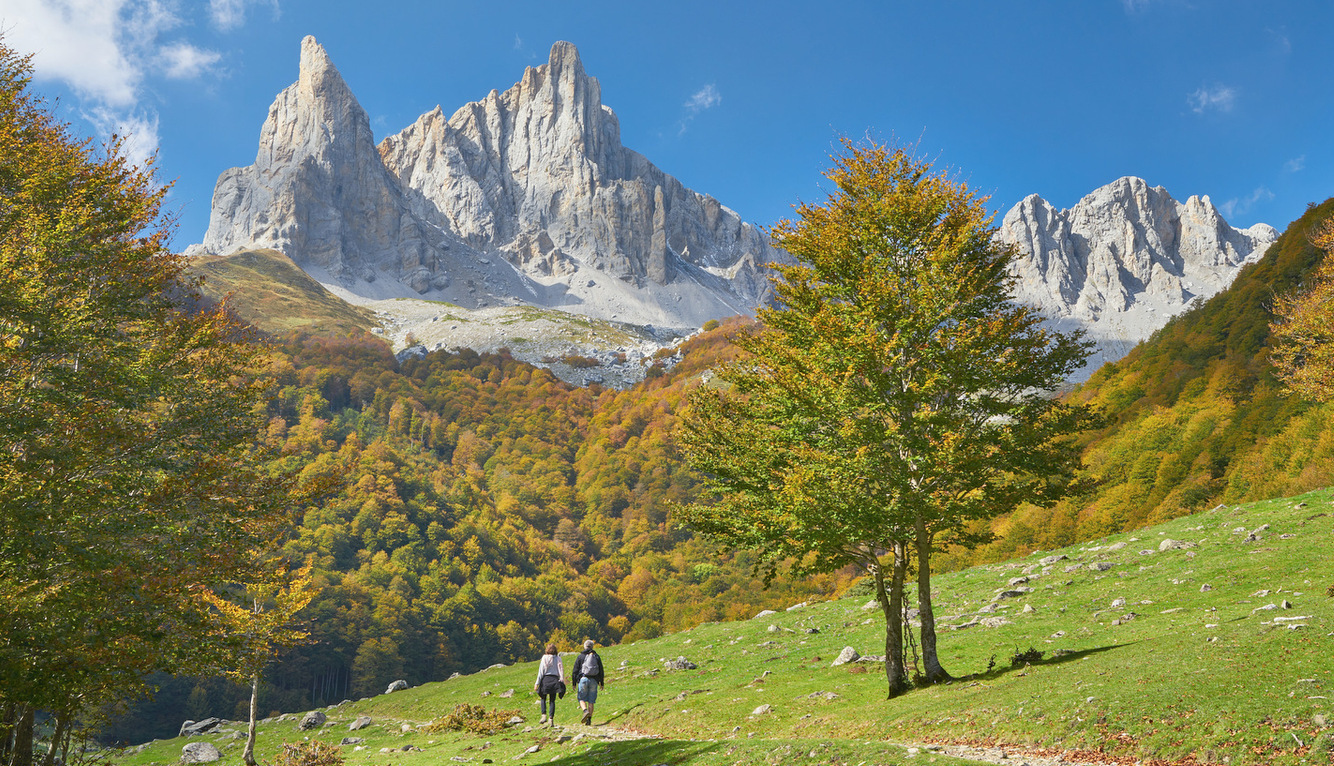 June 16 to 26, 2023 |USD 3950 pp

This trip is now complete. We will be running it again next year so please let us know if you are interested, and we will put your name down for 2024.
I can already hear you thinking - well this a bit out of the ordinary for the Whistling Arrows!
True, but while evidently not as exploratory as most of our expeditions, both past and present, this magnificent looping traverse of the western Pyrenees is no less awe-inspiring, or indeed challenging, than many in our portfolio. And it has history. As a young whipper-snapper I fondly remember discovering this majestic mountain country for the first time, with it's wonderful cross-border contrasts (in both flora and fauna), good food, and tales of wild bears. Wild tales of fiesta-induced revelry also spring to mind, but I will save those for another day, around a campfire, with a glass of rioja.
So, a touch of the extraordinary does indeed await those who choose to journey on foot with us through our favourite European range; beautiful beech and fir forests, granite peaks flanked by limestone needles, glorious glacial cirques and lakes - and all this while never too far from a cozy mountain hut, with convivial company and plenty of scrumptious fare to refuel. So join me this June (when the landscape is quieter and greener) on this fully supported, yet far from ordinary ramble, and win a full refund if you spot one of those fabled bears!
* Please note that, apart from at the one hut, this trek will be fully supported (you won't have to carry your large rucksacks) and the mountain huts themselves, while clean, comfortable and atmospheric, do not typically have private rooms (although the local guesthouses sometimes do). More importantly though, they do have hot showers.*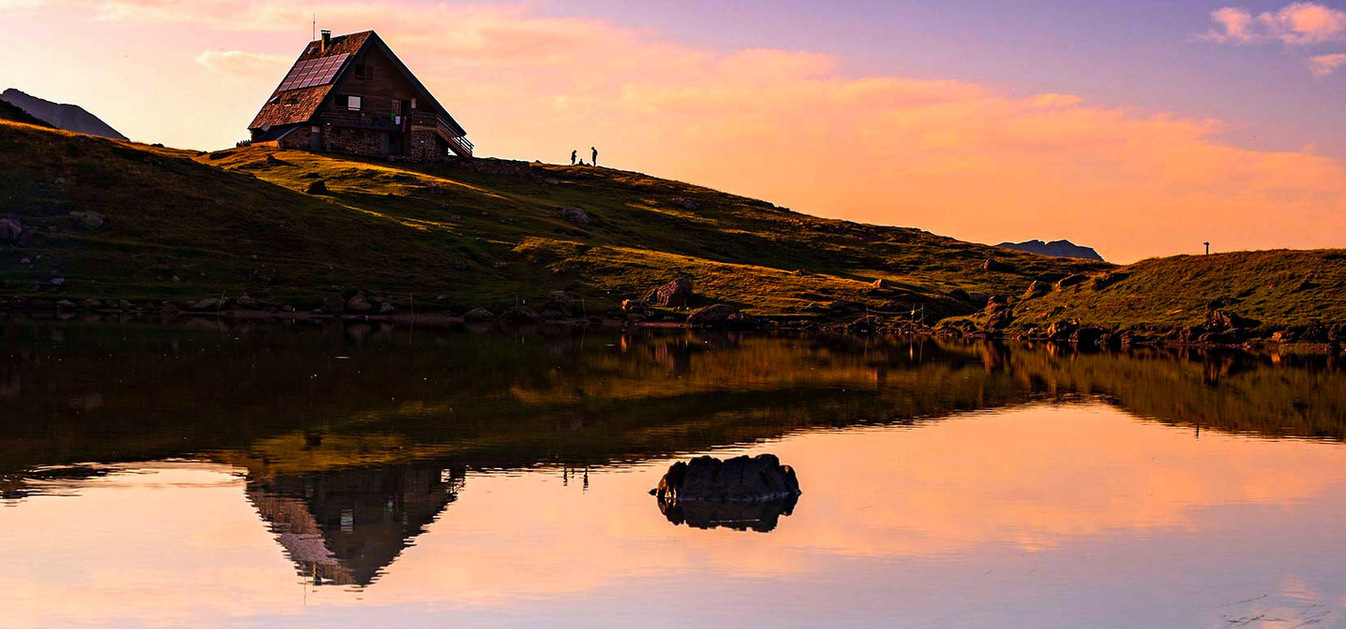 Join a fun, and fully-supported, multi-day romp across our favourite (and relatively quieter) European mountain range.
Challenge yourself amidst incredible (lower altitude) landscapes, while never far from good food and a glass of wine!
Explore the contrasting borderlands between France and Spain, and enjoy cosy, atmospheric mountain huts, along the way.
This is a wonderful hut-to-guesthouse-to-hut (with a couple of lovely boutique hotels at either end) trekking adventure to explore and traverse our favourite European mountain range. While very different to a Himalayan expedition for example, it is still relatively challenging, although altitudes are obviously much more manageable. The following is the outline daily plan.
June 16, 2023 ­
Fly to Barcelona (IATA: BCN). Transfer to our comfortable boutique hotel near Las Ramblas. Enjoy an introductory team dinner and drinks.­
June 17, 2023­
After breakfast transfer (4 hours) to the beautiful village of Hecho.­ Explore its stone houses and enjoy the amazing backdrop of the Pyrenees. Overnight in a local guesthouse.­ ­
June 18, 2023
Short transfer to the trailhead at Gabardito refuge. Trek ­for 4 to 5 hours through beautiful Alpine pastures (and via Bisaurin Peak) to ­Lizara ­. Overnight in mountain hut.­
June 19, 2023 ­
Trek for 6 to 7 hours through gorgeous green valleys to a spectacular mountain ­lake, before arriving in Somport. Overnight in mountain hut­.
June 20, 2023
Trek for 5 to 6 hours up to the spectacular mountain lakes at Ayous, ­watched over by the Midi d'Ossau, an enchating 2,884 m peak. Overnight in mountain hut.
June 21, 2023 ­
Trek for 6 hours to the sleepy village of Etsaut (with its one obligatory church and cafe) located on the banks of the Aspe River. Overnight in a local guesthouse.­
June 22, 2023
Trek for 5 to 6 hours, in part along a man-made eighteenth century path carved out of a sheer cliff, before arriving in the spectacularly located village of Lescun. Overnight in a local guesthouse. ­
June 23, 2023­
Trek for 6 hours (crossing back from Spain to France) over the wonderful Col de Petrageme to arrive in Linza. Overnight in mountain hut.­
June 24, 2023 ­
Trek for 5 to 6 hours through lush woodland, and surrounded by soaring mountain peaks, to Oza. Overnight in mountain lodge.­
June 25, 2023 ­
The final day's trekking sees us trek for 6 hours back to Gabardito to complete our wonderful circumambulation of the Pyrenees. Transfer for one hour to a lovely boutique hotel and spa!­
June 26, 2023 ­
Transfer 3 hours back to Barcelona airport. Fly out.­ ­
Rest assured we will be here to advise you on all aspects of preparing for, and participating in, this trip. Here are a few obvious places to start.

Accomodation ­
Will be in two hand-picked boutique hotels (the last one with a spa), the best available local guesthouses, and atmospheric mountain huts. In the mountain huts rooms will mostly be shared.­
Altitude­
The maximum altitude en route will be approximately 2700m when we summit one of the most panoramic peaks, otherwise it will be around 2000m.­ So all perfectly manageable.­
Communication
On the trek there will be patchy phone coverage (and wifi) along the way but we carry a two-way satellite email and texting device for emergency communication.­
Difficulty
The trip will be relatively challenging so everyone needs to be properly prepared, both mentally and physically. ­
Equipment ­
We will supply a light sleeping bag if needed (the huts also have sheets/bedding). Please refer to our
typical kit list
for a guide as to what else to bring, and note that you will need to bring your own travel towel.­
First Aid ­
We carry a comprehensive medical kit, including Diamox to treat any signs of altitude sickness, although this is not expected to be an issue on the trek.

Food ­
Good food (and wine and beer) is offered at the mountain huts. Meals are typically rice, pasta, vegetables, stews and deserts. Lunches will be picnic style. Our dinners at the boutique hotels will be ­a feast.­
Flights ­
The trip begins and ends in Barcelona (IATA: BCN). All guests must arrive in Barcelona by the evening of June 16. on the way back, we expect to arrive back in Barcelona by 12.00 at the latest.­
Insurance
All guests must have a comprehensive travel insurance policy that includes emergency medical evacuation.

Support ­
The trip will be largely fully supported and your heavier rucksacks will be transported by vehicle to your final days destination on all but one of the stages. For the stage to Ayous, you will just need to carry what you need for that day (and the next) and one overnight­ stay.­
­Temperatures
Typically will range between 21 to 28 degrees Celsius during the day, but may fall to as low as 8 to 10 degrees at night. In June the weather should be fine and pleasant.­
Toilets & Washing­
On the trek itself you need to bring your own toiletries and travel towel. Hot showers are available at the mountain huts for washing.­
Visas ­
Certain nationalities will require a valid visa to join this trip. Please do check if you would be one of them.­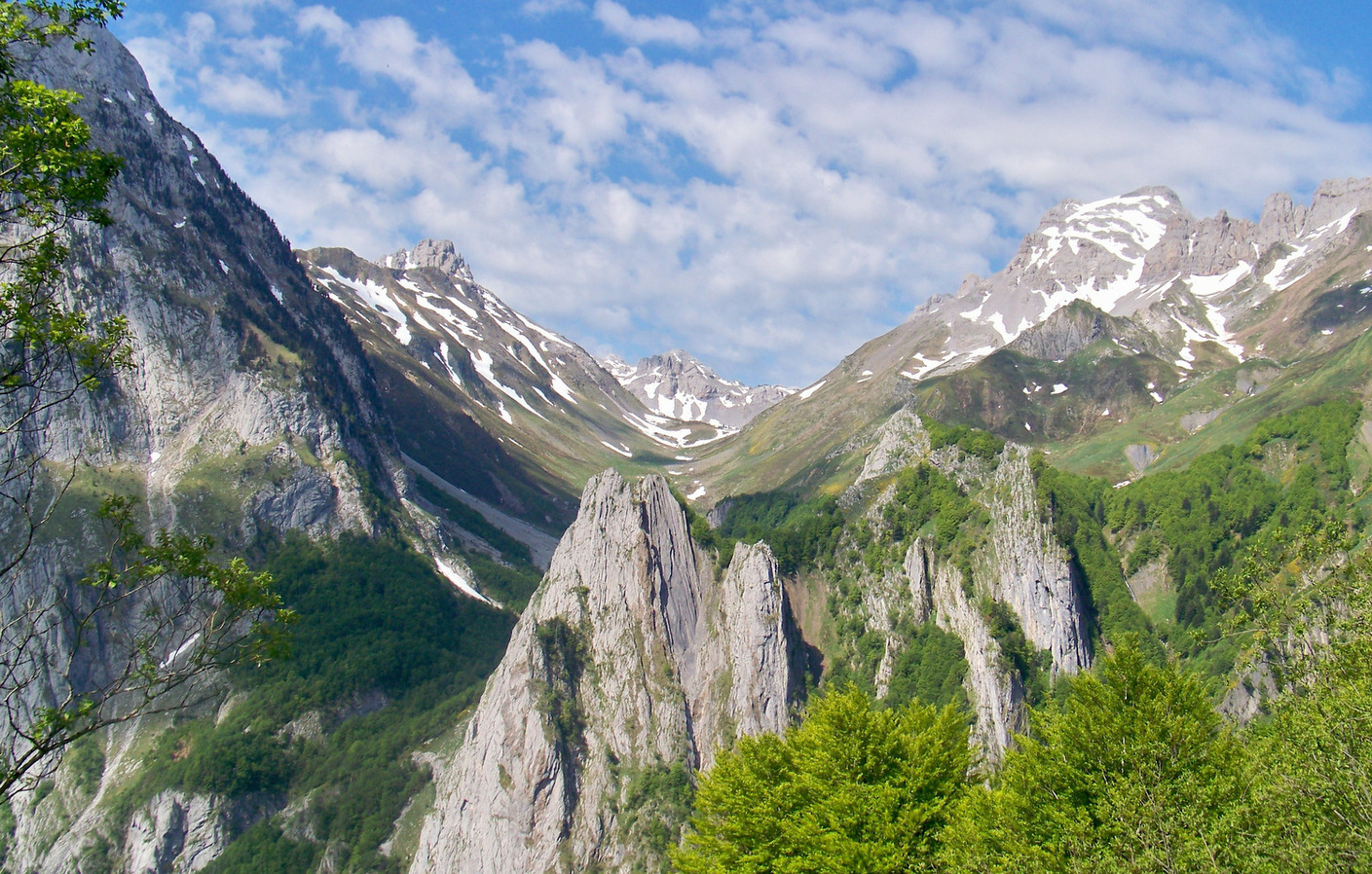 A Few Words On The Myth Of The Pyrenees

The story of Pyrène, daughter of the Ancient Greek king Bébryx, is often cited as one of the original myths of these mountains. The legend recounts that after Hercules abandoned her, Pyrène was desperate, and disappeared into the forest where she was devoured by wild beasts. Hercules later created a tomb for her by piling up rocks thus forming the mountain range of the Pyrenees, which are named after her.
Animals often play their part in this mythological culture, and particularly bears where, similar to popular beliefs in the Balkans for example, the bear was considered to be the direct ancestor of man, confering on it an almost god-like status, and local monikers of respect still used to this day such as 'Or
lou Moussu'
(the gentleman).