On The Trail Of Ancient Sogdians: Tajikistan

August 12 to 22, 2023 |USD 4850 pp

"It seems that time is frozen", recounted the elderly Yaghnobi, "but we will continue to live here, to keep the light in the candle of the memories of our ancestors. This is our homeland, the place where we were born. We will not leave it." Alas we had to at the time, but we're now heading back, and look forward to catching up with our good-hearted old friend over warm flatbread and drawn butter.
Remote and naturally isolated, the magnificent Yaghnob Valley is completely encircled by high spurs of the Hissar and Zeravshan range, and particularly in its upper part, offers an ancient cultural landscape that is absolutely fascinating to explore. Harbouring some of the last descendants of the ancient Sogdians, who once inhabited most of Central Asia beyond the Amu Darya River, Yaghnob and its surrounding valleys offer a heady mix of wild mountains, venerated traditions, and a glorious generosity of spirit. Throw in some epic camping, and immersive village homestays, and you have all the ingredients for an extraordinary adventure.
So join us, on a journey through living history, to trek up three three beautiful valleys, over two spectacular passes, and, with the support of our safety rope and crew, to cross one (knee-deep) glacial river; and yes it's cold - for a short while at least, time will not be the only thing frozen in the land of the Yaghnobi!
* Please note that this scheduled small-group trek will be fully supported (so unlike in the recce expedition images below, you won't have to carry your large rucksacks) using a combination of porters and mules.*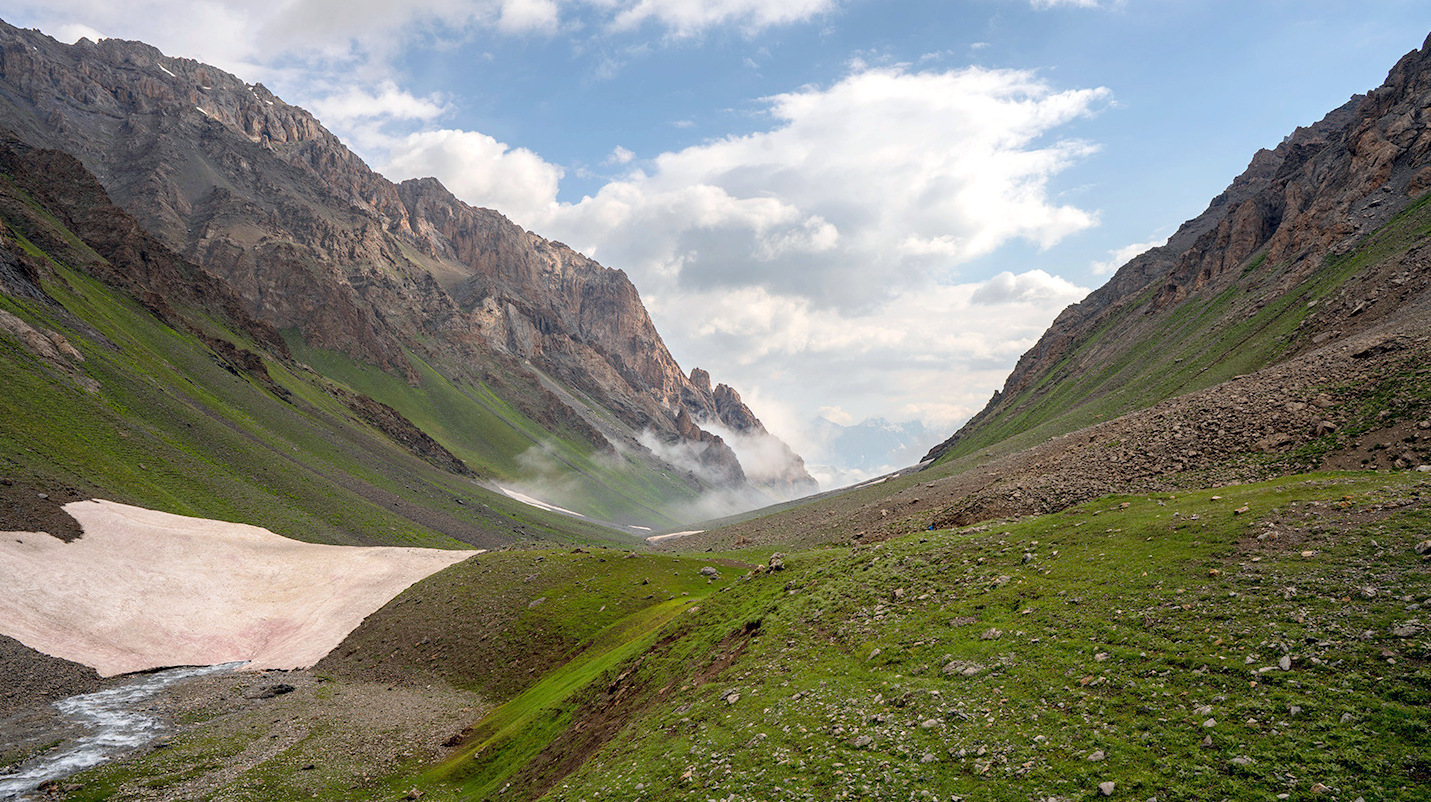 Join an exploratory expedition to journey through history and discover a fascinating ancient cultural landscape.
En route, experience the warm-hearted hospitality of the local Yaghnobis (and Tajiks) in two traditional village homestays.
Last but not least, journey through spectacularly wild mountain country, and leave the complicated support logistics to us.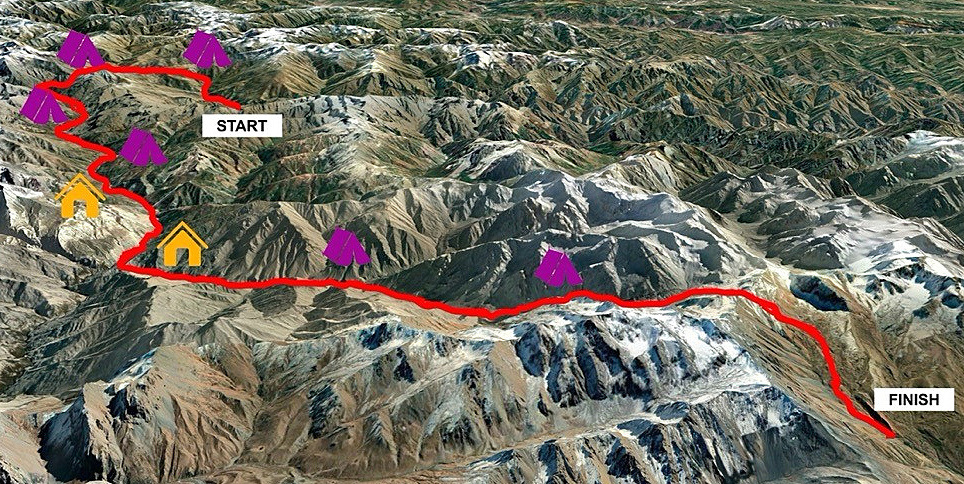 This is an exploratory trekking adventure to explore one of the most remote mountain sanctuaries in Central Asia. Support logistics are complicated but with the right team, and a little patience, we can make it work. The following is the outline daily plan.
August 12, 2023 ­
Fly to Dunshanbe (IATA: DYU). Transfer to our comfortable centrally located hotel. Enjoy some sightseeing followed by an introductory team dinner and drinks.­
August 13, 2023­
An early start. After breakfast we will drive for 4 hours to Rufigar village in the Romit Nature Reserve. Here we will meet our porters/mules and trek for 3 hours up the valley to our first camping spot.­ ­
August 14, 2023
Trek for 6 hours, gradually climbing over over the Zahob Pass ­to arrive in the Yagnob Valley where we will camp at the confluence of ­the Yaghnob, Barzangi and Takali rivers.
August 15, 2023 ­
Trek for 6 to 7 hours following the Yaghnob River (which we will also have to cross with the support of the team and a safety rop), before climbing gradually up to our campsite at the foot of ­Tabaspin pass.
August 16, 2023
Today is relatively long (although not overly challenging) as we trek for 7 to 8 hours along the wide and green Yaghnob Valley ­towards the abandoned hamlet of ­Navobod, setting up camp nearby.­
August 17, 2023 ­
Trek for 5 to 7 hours depending on the route that we take.­ One is shorter but more exposed, so we will make a call at the time depending on the conditions. ­Stay in a traditional homestay in the remote village­ of Kirronte.­
August 18, 2023
Today only involves 3 hours trekking. It is a deliberately designed shorter day so we can soak up the atmosphere in the villages at either end. Stay in a traditional homestay in the village of ­Pskan.
August 19, 2023­
Trek for 6 hours, past two more small villages, following an easy path along the ­Tobobikul River. Tonight we will once again be camping.
August 20, 2023 ­
Trek for 6 hours, along increasingly rocky ground, to the foot of Aghbakul Pass where we will set up camp at our highest campsite en route (3500m). ­
August 21, 2023 ­
The final day's trekking sees us trek for 5 hours over the Aghbakul Pass (3960m) to descend into the beautiful Ziddi gorge, with beautiful mountain vistas and lakes along the way.­ Pick up by vehicle and transfer 3 hours to Dunshanbe for a fairwell dinner at our hotel.­
August 22, 2023 ­
Transfer to Dunshanbe Airport and fly out.­ See you next time! ­
Rest assured we will be here to advise you on all aspects of preparing for, and participating in, this trip. Here are a few obvious places to start.

Accomodation ­
Will be in our favourite centrally located four star hotel in Dunshanbe, while on the trek itself for the most part we will be camping, with two nights also spent in a rustic village homestays.­
Altitude­
The maximum altitude en route will be approximately 3960m when we cross the Aghbakul Pass on the last trekking day. While altitudes will be consistently above 2500m we they should all be perfectly manageable.­
Communication
On the trek there will little to no phone coverage (or wifi) along the way, but we will carry a satellite phone and a two-way satellite email and texting device (Garmin Inreach) for emergency communications.­
Difficulty
The trip will be moderately challenging so everyone needs to be properly prepared, both mentally and physically. ­The Yaghnob and surrounding valleys however is not particularly extreme terrain.­
Equipment ­
We can supply sleeping bags if needed but we would suggest that you bring your own if possible. Please refer to our
typical kit list
for a guide as to what else to bring.­
First Aid ­
We carry a comprehensive medical kit, including Diamox to treat any signs of altitude sickness, although this is not expected to be a significant issue on this trek. ­
Food ­
Good freshly cooked food will be offered on the expedition; typically a mix of tajik and western dishes. Lunches will be picnic-style. In Dunshanbe (and to a lesser extent at the homestays) meals tend to be a sumptuous affair, particularly when welcoming visitors.­
Flights ­
The trip begins and ends in Dunshanbe (IATA: DYU). All guests must arrive in Dunshanbe by the evening of August 12. On the way back, we are scheduled to arrive back in Dunshanbe by late afternoon on August 21.­
Insurance
All guests must have a comprehensive travel insurance policy that includes emergency medical evacuation and covers trekking up to 4000m (most do).­
Support ­
The trip will be fully supported and your heavier rucksacks will be transported by porters and mules. So, on the trek itself, you will just need to carry your day pack.­
­Temperatures
Temperatures are fairly warm in August, even at higher elevations, and will typically range between 27 to 32 degrees Celsius during the day, but may fall to as low as 7 to 10 degrees at night. ­
Toilets & Washing­
On the trek itself you need to bring your own toiletries and travel towel. A toilet tent and shower tent will­ also be provided. Boiled hot water will be provided for more routine washing.­
Visas ­
The vast majority of nationalities have visa free access to enter Takijistan. We can help you double check if you are not one of them.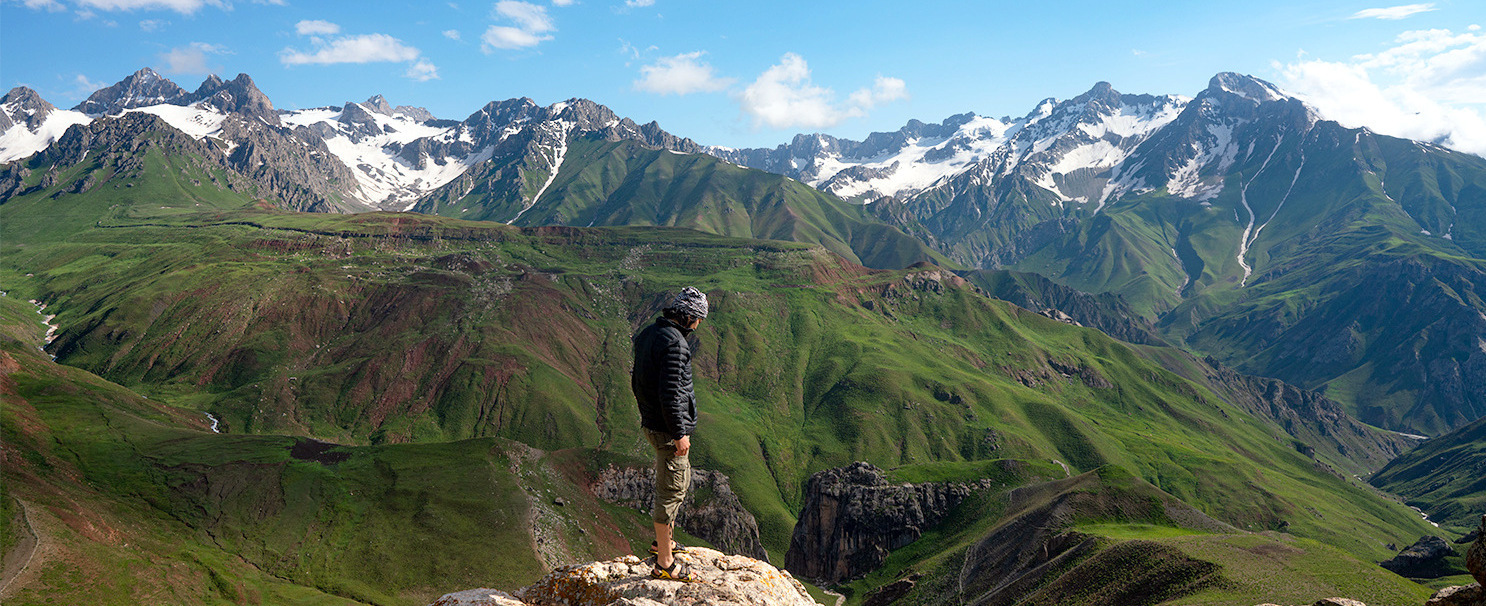 A Few Words On The Sogdians
As we have already meantioned, the Yaghnobi, who have inhabited the high mountain valley of Yaghnob for centuries, are descendants of the ancient Sogdians. The kingdom of Sogdiana existed from before the sixth century BC until the Arab conquests of the eighth century AD. From the fifth to the eighth centuries, the Sogdians were the main caravan merchants of the Silk Road which passed through the Sogdian cities of Samarqand (their capital) and Bukhara. The Sogdians also established extensive colonies in what is now western China.
After the Sogdians were defeated by Arab invaders at the battle of Mount Mugh in 722 AD, many of them fled Arab domination to live in the high mountain valleys, and the village of Pskon in the Yaghnob valley became a de facto capital for the Sogdian refugees, where they remained fairly isolated from outside authority and influence. Although nearly all of the Yaghnobi eventually adopted Islam, they also retained Zoroastrian beliefs which continue to be a part of their religious practice to this day.