Straight From The Horses Mouth (So To Speak).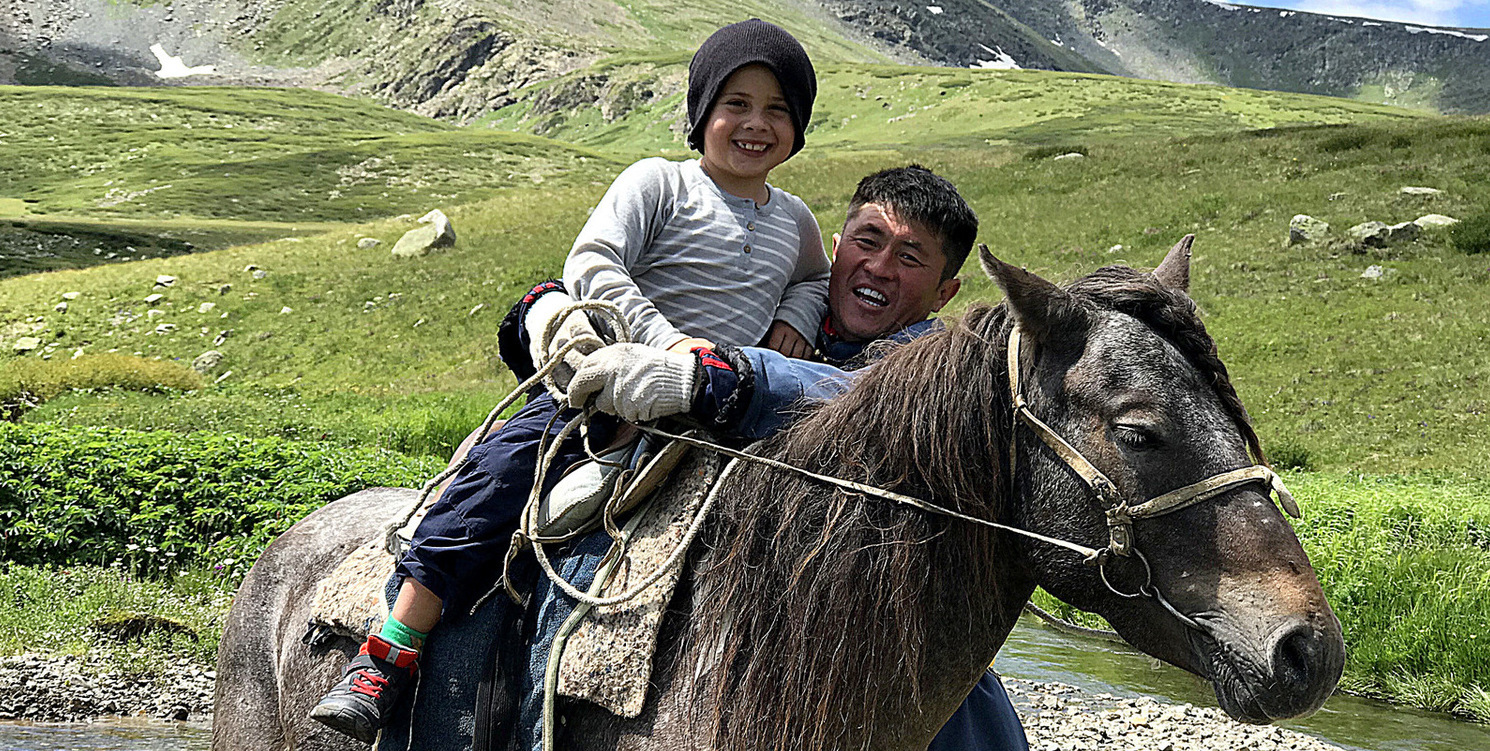 We sat down with Sandra over a glass of wine, to talk through her recent family trip with us to explore the Altai Mountains of Western Mongolia.
Could you explain who went on the trip and when it took place?
Nick and Sandra Felgate. So, Mum and Dad plus our 3 children - Theo 14, Eden 10 and Nova 8. We traveled to Mongolia in July 2019. I am a designer and sometimes yearn to get away from it all to find inspiration. We live in Discovery Bay (Hong Kong).
Nick and I have always had a wish to go there - it is one of the few truly wild places left on the planet. We needed a digital detox, and absolutely got that! No power lines, no electricity, no running water or airplanes in the sky. Heaven!
What did you want to get out of the trip?
I think we wanted the opposite of Hong Kong. A quiet place where we could think and recharge and re-connect with each other and nature. We needed to get back to the silence, when no one can hide behind a screen, and all there is left to do is actually talk, play cards, draw, sing and laugh. We wanted an immersive insight into a simpler way of living (and authentic nomadic culture) before it begins to disappear completely.
Why did you turn to Whistling Arrow and how did they help?
I went to listen to one of Adrian's talks at the Royal Geographical Society in Hong Kong with a friend, and was immediately hooked. I loved the sound of Adrian's adventures and went home, pulled up the website and straight away booked a trek to Nepal, and then soon after, the family adventure to Mongolia – in short, he is an explorer first and foremost, and so has an incredible first-hand knowledge of many remote locations around Asia.
Explain the trip - what was the rough itinerary?
The objective was to spend time with two nomadic Kazakh eagle hunter families, to live alongside them, and take part in their daily lives. We chose to trek for a few days (supported by bactrian camels) to get to the first family, although it is possible to also drive.
We flew in to the far west of Mongolia, bordering Kazakhstan, where we were met by our guides, and then drove through the most incredible landscape to a large lake at the foot of the Altai Mountains, from where we started our trek to the first eagle hunter family.
The nomadic families were so warm-hearted; we could choose how much to interact, and this happened very naturally. Our hosts would engage us in conversations and invite us into their personal gers for numerous cups of tea (and vodka) and dinner. We felt that they were genuinely excited to have us there, they enjoyed our company, and really enjoyed sharing their way of life with us.
Whenever we felt like it, we could go for a beautiful wilderness hike (with no-one else in sight), or a (very cold) swim in the river, a bike ride (Adrian provided fat bikes), or we could help out with the animals – or ride a horse! On a couple of occasions, we were also spontaneously invited to a local festival, and another family's gathering. It was all very inclusive and natural. Nothing was staged (and there was no fixed itinerary as such) for us – we just joined in their real daily lives. Marvelous!
What was the highlight of the trip for you?
The highlight for me was definitely how welcoming the local nomads were! Everyone we met were so excited to see us; so hospitable and inclusive. Tea, bread and vodka always at the ready. Every day there were new locations to explore – new and spectacular scenery, and new and authentic experiences to amaze us. For my husband, the highlight was a solo trek up to a remote waterfall and a river where he enjoyed a nude swim in the freezing water. He and the kids also loved fishing in the beautiful rivers. And the fact that we did not see any other people.
What was the highlight for the kids?
Riding horses (and camels!), and interacting and playing with the other local kids that we met (both families had several of their own children). We had a football with us and this often opened doors for many hours of fun along the way. Our kids also really enjoyed the interaction with the two brilliant local guides that we had, as well as the camel and the horse man. The camel and the horse men didn't speak any English – but that didn't matter. The camel man took our youngest fishing, and the horse man taught our eldest son to ride a horse! Our teenager just loved our female guide, who taught him to sing Kazakh fold songs!
What sort of accommodation did you have?
We stayed in very comfortable Kazakh gers (yurts) that Adrian had pre-assembled alongside each family. The kids in one ger, and me and my husband in the other (the team had even assembled the gers so that each one was connected). Both gers had a warming fireplace that was lit for us every night. We slept in real beds, with pillows, and duvets, and warm sheep skins, and wool blankets on top. The Kazakh gers are beautifully decorated inside, with hand embroidered felt tapestries. There was also a shower tent with piping hot water – something I certainly had not expected, and a large dining tent - oh and a toilet tent of course.
What sort of food was on the menu?
Because the nights were cool, the food kept very well, and we enjoyed fresh vegetables and fruit every single day – for two weeks! Not to mention the wild foods that we collected and prepared along the way, many of which I recognized as the flora and fauna proved to be very similar to my native Sweden. We wanted to eat as local and authentic as possible, and incorporated into the food that was cooked whatever grew or could be sourced around us. We had grilled lamb from the local herdsmen, fresh yoghurt and cheese, wild onions and rhubarb, wild herbs and freshly caught fish!
Every member of my family agrees when I say this: The best meal we have ever had was one of the meals that we shared with the eagle hunters. We all caught the fish (wonderful tasting grayling) together in the river, stuffed it with wild mint and thyme, and cooked it over an open fire. Our host produced a bottle of white wine (we don't know how!) that he cooled in the river, and we shared the fish and the wine (and some vodka) with our guides and the eagle hunter family. There were so many laughs and songs around a big bonfire. Every single one of us went to bed with smiles on our faces that night. It's such a happy memory!
On several occasions the locals also made the most delicious handmade noodles for us, our kids still talk about those as well!
What was the weather like?
I feel that we had all seasons in one! We had beautiful sunshine and temperatures between 20 to 25 degrees Celsius most days, with the odd hailstorm followed by sunshine again! We had a little bit of a windy night by one of the lakes while we were trekking, where we hid in our tents and watched the peaks around us slowly get covered in snow from a safe distance. By the families though, we were obviously snug in our gers at night.
How was it meeting the eagle hunters?
Fantastic! The first day we met the eagle hunter and his family, and his brother's family, and were immediately invited to a big family celebration with traditional Mongolian wrestling. It was truly one of the most extraordinary days in all of our lives! The following day, the eagle hunter's oldest daughter, who is also an eagle hunter, demonstrated eagle hunting for us. We were in awe of her strength and skill. One of their two eagles weighed in at a whopping 10kg!
It was also valuable lesson for our kids to meet all the nomadic kids, and see how they helped out with all the chores. Even the youngest fetched water from the rivers, looked after their siblings, and made sure the animals were safely locked back in their pens at the end of each day. They would all milk cows, horses and goats and assist in hunting and herding from a very young age.
Any low points to the trip, or anything you would have done differently in retrospect?
I would have really liked to stay longer to get an even deeper insight into the lives of the people we got to know. I had intended for us all to take some riding lessons prior to the trip, but this never happened. This didn't matter for the children, riding came naturally to them but for me, well, I was a little nervous of the local horses – but I enjoyed hiking instead.
Is there anything you didn't do that you would have liked to/will you be back?
I would have loved to attend a wedding! I would go back to Mongolia in a heartbeat, there is so much to see. We loved how authentic it is. The beautiful landscapes, the snow-capped mountains, the rivers, lakes and meadows full of flowers. So real and clean (no plastic anywhere). I would love to meet the families that we stayed with again, and immerse myself further in the local landscape and wild cuisine. Who knew that there is rhubarb growing wild in western Mongolia? And if I had known how much fish we could catch in the rivers – I would have fished for my dinner every day!
What were your 'must-pack' items?
Warm fleeces and windbreakers. Salt and chili, and small gifts for the local children.
Would you recommend Mongolia and Whistling Arrow to other families?
Absolutely, before it disappears for good! It was such a worthwhile adventure for our family, one forever etched in our memories because it was such an unusual trip - so far removed from our everyday lives – everything was new and often very meaningful. For the kids to see how other people live was very humbling indeed.
Without Adrian's strong relationships with the families on the ground, and his expert, first-hand knowledge gained from running multiple expeditions into this remote corner of Mongolia, we could never have hoped to gain access to the families and locations that we did. We were incredibly well looked after by his team - we really couldn't have asked for more.