Northern Traverse Trek: Sikkim

18 Days | From USD 5800 pp

* Please note that the best months to plan this trip are May (for the flowers), or October*
It was during my first visit to the far north of Sikkim in 1995, that I vowed to return one day, and traverse this spectacular land of snow-capped peaks, and rhododendron covered valleys. At that time, my own plans had been scuppered by the labyrinthine local bureacracy, but now, many years later, it is now possible to get our hands on those 'special' permits ; maddening pieces of paper that, if nothing else, have at least served to hide away the awe-inspiring beauty of these glaciated amphitheatres, and virgin forested slopes, from all but the most determined of foreign trekkers.
So, starting from the fabled 'Valley of Flowers', our small team expedition will first head west, to cross a breathtaking (pun intended) high pass that lies in the southern shadows of Brumkhangse peak, before descending into one of the most beautiful rhododendron sanctuaries in the Himalayas. After relaxing in piping hot springs at the foot of the valley, we will then continue west, this time into the remotest reaches of the Kanchenjunga Biosphere Reserve; home to the indigenous tribe of Lepchas, the ancient monastery of Tholong (which for fellow plant-enthusiasts out there literally means arisaema place), and according to local legend, bon manchi - the 'man of the forest' (or yeti to you and me). And there, we'll explore our final destination; a sacred Lepcha lake that for local clans marks the 'route to heaven', a trail that zigs and zags up a big rock wall, and tops out at a stupendous pass known simply as the 'peaceful one'.
Perhaps not all good expeditions need a fitting climax, but from here, fingers crossed, the views over Kanchenjunga and the rock needles of Siniolchu, offer 'the most superb triumph of mountain
architecture in the world' (in the eyes of Douglas Freshfield at least, in 1899)!
Participate in an expert, exploratory expedition to explore one of the true hidden gems of the Himalayas.
Discover a remote and prolific biosphere; home in particular to umpteen varieties of birds and rhododendrons.
Forge a spectacular route over 2 panoramic high-passes ­that bookend mystical valleys revered by the local Lepchas.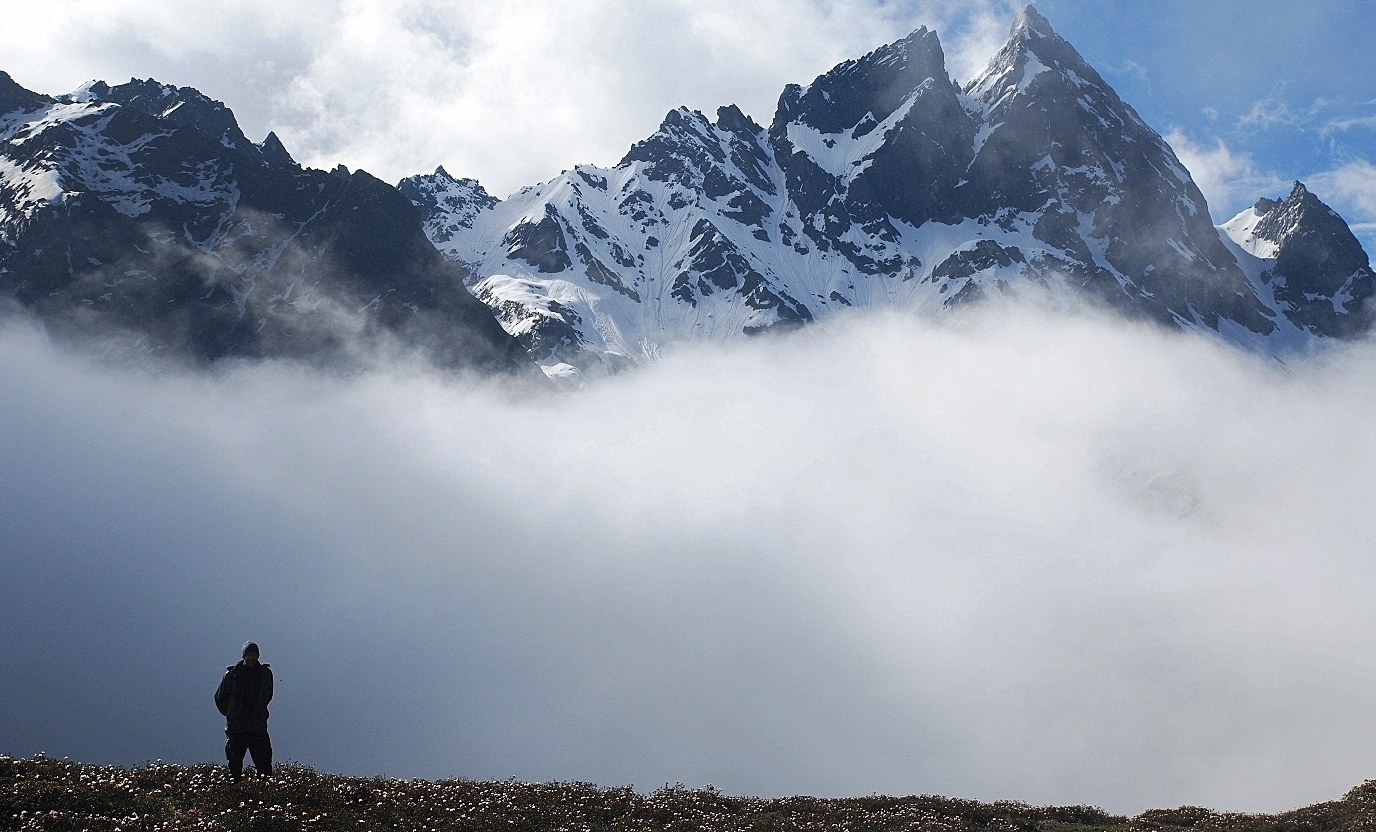 This is an exploratory route through a remote region of the Himalayas that will require a considerable amount of flexibility and self-reliance from all members of the team. The following is only the outline daily plan.
Fly to Delhi (IATA: DEL). You will be met at the airport and transferred to our hotel. Enjoy an introductory team dinner and drinks.­
­
Catch the early flight to Bagdogra and then drive for 5 hours to Gangtok. Overnight in boutique lodge.­
Drive five hours to the mountain village of Lachung.­ Visit 19th Century monastery. Overnight in local lodge.­
Set off on the short and spectacular drive to Yumthang.­ Explore the­ ' Valley of Flowers' and set up camp.­
Slowly trek up to Tsethang camp with panoramic views over the snow-capped peaks to the east.­
Trek up to a ridge on Brumkhangse East to experience the beautiful views and rhododendron flowers.­ Return to camp.
Trek over the first high pass (4300m) before descending to the gorgeous Lhethang meadow camp. ­
Trek down through some of the most stunning rhododendron forest on the planet to Youtomey camp.­
Trek down to the lovely forested hotsprings at Tarum, where we will relax, soak and camp.­
Trek down to the road and transfer by jeep to the village of Tingvong. Overnight in local homestay.­
­
Trek up to the one of the most revered ancient monasteries in Sikkim, Tholung Gompa. Camp.­
Trek up into the mystical Tholung Valley­ with it's backdrop of snow-capped, unclimbed peaks. Camp. ­
­
Trek up to the spectacular sacred lake revered by local Lepchas which marks the 'route to heaven'­. Camp.­
­
Trek up the sinewy trail to gaze out from atop the pass (4785m) known as the 'peaceful one'.­ Return to Tholong camp.
Trek back down to Tholung Gompa through pristine forest. Camp once again by the ancient monastery.­
­
Trek back down to Thimvong village. Drive to Mangan. Stay in comfortable, boutique lodge.­
Drive for 6 to 7 hours back to Bagdogra. Stay in comfortable and clean local hotel.­
Catch the early morning flight to Delhi. Fly home, and hope to see you next time.­
Rest assured we will be here to advise you on all aspects of preparing for, and participating in, this trip. Here are a few obvious places to start.

Accomodation ­
Will be at boutique lodges in Gangtok, Lachung and Mangan, and a more basic local homestay in Tingvong village. On the trek itself we will be camping.­ In Delhi and Bagdogra, we will stay in more conventional hotels. ­
Altitude­
The maximum altitude en route will be approximately 4750m. We have built in one or two extra days that can be used as spare acclimatization/rest days if needed.­
Communication
On the trek there will be no phone coverage but we will carry a two-way satellite email and texting device for emergency communication.­
Difficulty
The trek will be relatively challenging so everyone will need to be properly prepared both mentally and physically.­
Equipment ­
We will supply all (rigourously cleaned) camping equipment. Please refer to our
typical kit list
for a guide to what else to bring.­ Please note that we advise that all guests bring their own sleeping bags.­
First Aid ­
We carry a comprehensive medical kit, including Diamox and Dexamethazone to treat any signs of altitude sickness. ­ ­As standard we also have a group search & rescue membership with GEOS.­
Food ­
Mainly local and Western food prepared by our expedition cook. We also will include plenty of snacks etc.
Flights ­
The trip begins and ends in Delhi (IATA: DEL). All guests must arrive in Delhi by the evening of day 1.­ Please note that we will book both domestic flights, which are included in the price.­
Insurance
All guests must have a comprehensive travel insurance policy that includes emergency medical evacuation. As standard we also have a group search & rescue membership with GEOS.­
Support ­
Your large rucksacks will be transported by porters so you only need to carry your day pack while hiking. ­
­Temperatures
Typically will range between 5 to 20 degrees Celsius during the day but may fall to as low as minus 5 degrees at night. ­
Toilets & Washing­
On the trek itself we will be camping, so washing and toilet facilities will be wild and fairly basic­, although we will carry a toilet tent.
Visas ­
Indian visas will be required for this trip for those nationalities that require one. We will arrange all other special permits (included in the price). ­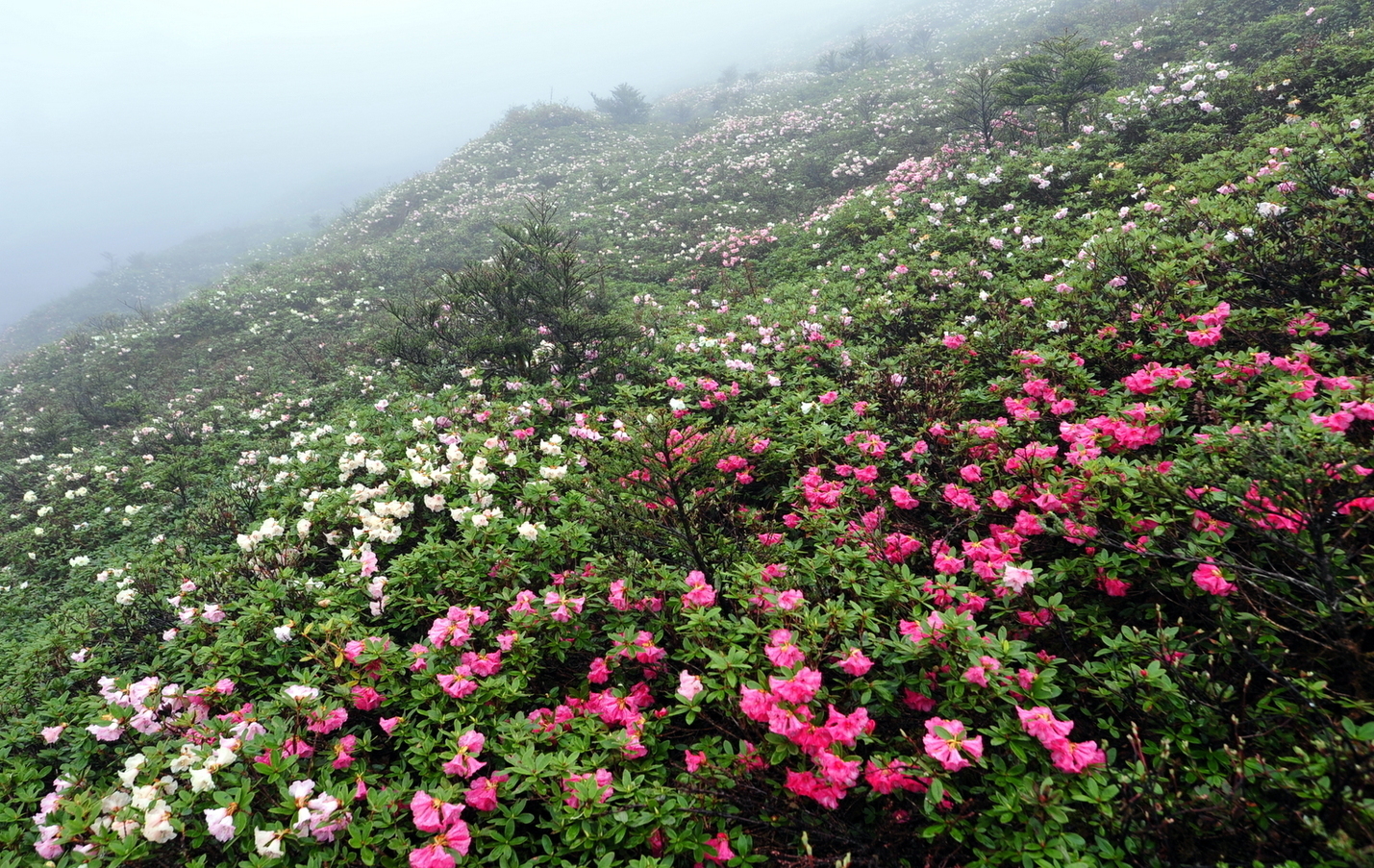 The remote and prolific biosphere that we will be exploring is home to over 30 varieties of vibrant, eye-catching rhododendrons­.
A Final Word On Our Plastic-Free Trailhead

Lachung: The Village That Confiscates Plastic
Processing video...