Trek Across The Great Divide: Zanskar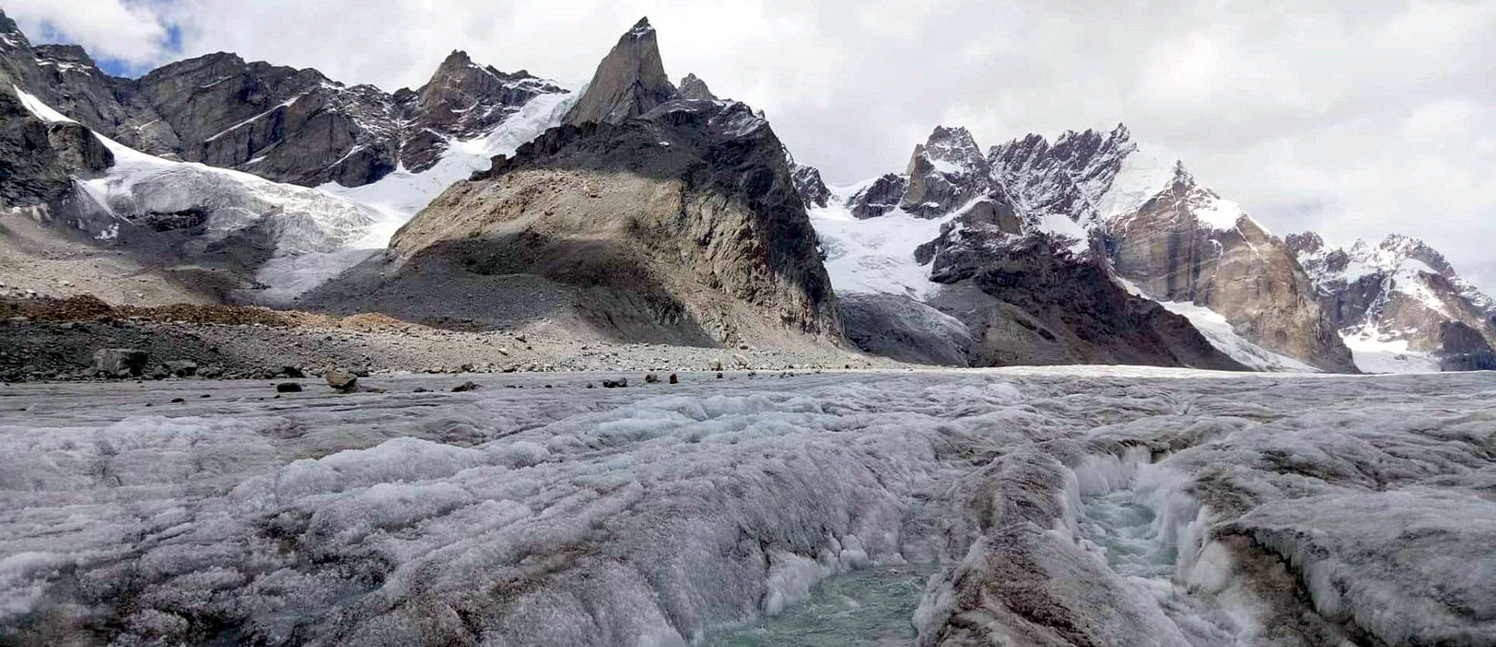 18 Days | From USD 5950 pp

* Please note that July and August are the best months to plan this trip *
The idea for this exploratory expedition was conceived (as Shipton always recommended) on the back of a postcard, and born out of our longstanding addiction to unearthing some of the last hidden corners of the Himalaya; and, in particular, a craving to explore the remote knot of mountains that divide the mythical valleys of Pangi, Dharlang and Zanskar. It all began with a dog-eared copy of the Himalayan Journal (it's a long story), but suffice to say, this brief excerpt underscores the essence of the original inspiration:
"It was an unusually spectacular gorge, filled with glacier ice and frozen pools, with towering rock and ice walls rearing into a brilliance that simply took my breath away".
So, designed with the more experienced trekker in mind, we will embark on a slightly 'unscripted' adventure that begins with one of the most awe-inspiring, white-knuckle drives in the world, to first arrive at our far-flung trailhead in the secluded Pangi Valley. From here, the expedition will set off to explore deep into a timeless Himalayan backdrop of vertiginous valleys carpeted with wildflowers, magnificent glaciers framed by towering black rock peaks, and cascading fields of snow and ice that feed sapphire-coloured rivers. Last but not least, we will traverse 'the great divide', and trek beyond the central Himalayan range, by crossing two extraordinarily wild high-altitude passes (both above 5000m), to descend into what, in our humble opinion, has to be one of nature's most awe-inspiring landscapes - the beautifully barren Zanskar Valley.
In short then, if you are looking to join an epic Himalayan trekking expedition, with a like-minded team of intrepid adventurers, then this is it!
Participate in an expert, exploratory expedition to explore one of the last hidden corners of the mighty Himalayan range.
Discover the often transformational nature of remote wilderness trekking, where resilance and adaptability are key.
Forge a new route over 2 spectacular high-altitude passes ­that divide the 3 mythical valleys of Pangi, Dharlang and Zanskar.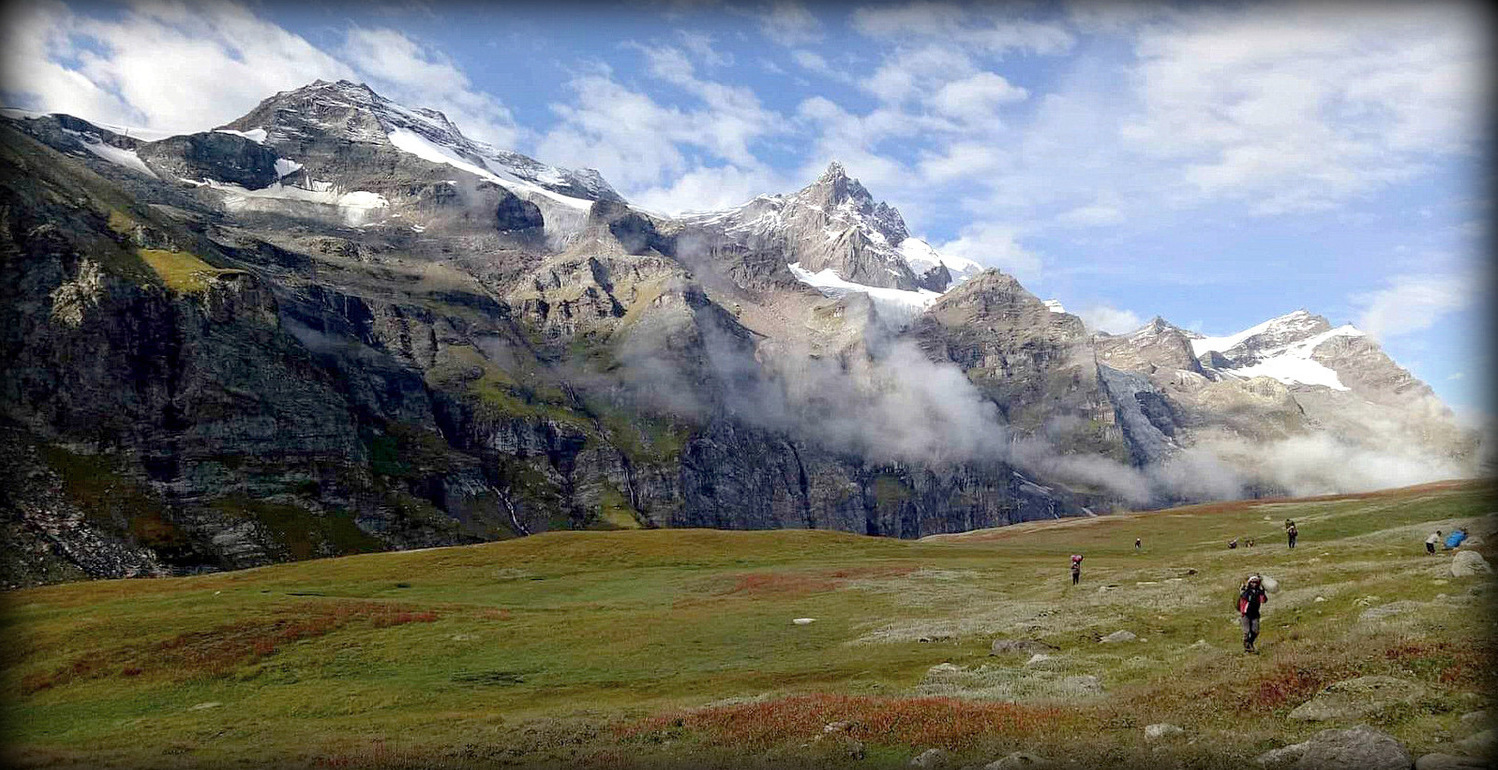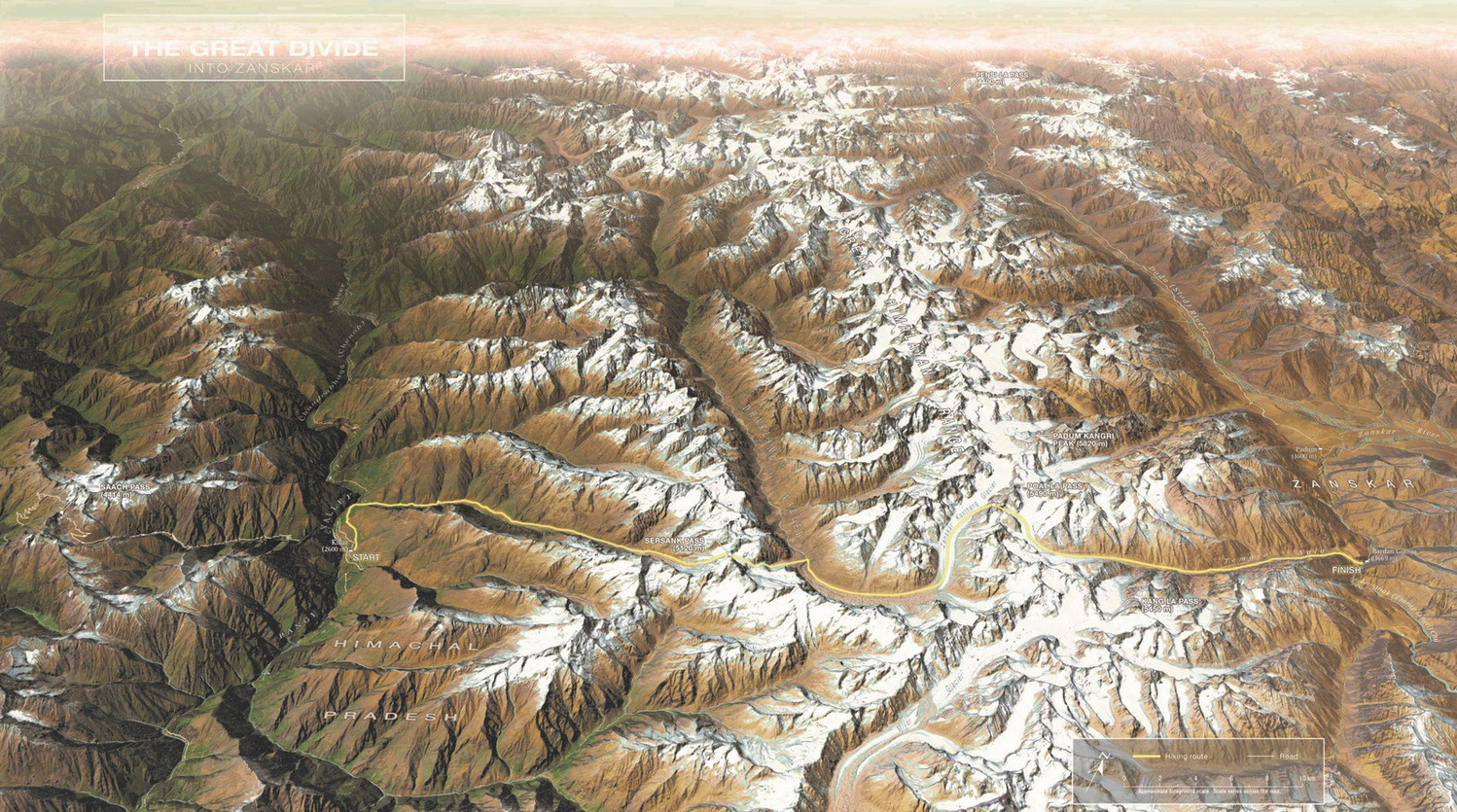 Thank you to Nicolas, one of our signed up team members ­for creating this beautiful map of our expeditionary route from Himachal Pradesh into Zanskar in July 2022.
This is an exploratory route through a remote region of the Himalayas that will require a considerable amount of flexibility and self-reliance from all members of the team. The following is only the outline daily plan.
Fly to Jammu (IATA: IXJ) to arrive at 11.10. We will meet you at the airport, have lunch and then drive 3 hours to Patnitop, where we will overnight in a local lodge. Enjoy an introductory team dinner and drinks.­
­
Drive for 6 hours to Gulabgarh, where we will source final provisions for the expedition. Overnight in a local lodge.­
Drive 1 hour to the end of the road where we will meet our porters, and begin the expedition. Start trekking to Aliya village 2800m (approximately 5 to 6 hours).­ Set up camp.­
Don't forget your dancing shoes! Today we will spend the day acclimatizing in the beautiful Bhuddist village of Aliya, where we will visit the local monastery, and enjoy some local festivities! ­
Today we will trek 4 to 5 hours to Nagani­ where we will set up camp at approximately 3200m.­
­
Trek for 3 to 4 hours to Chandi Padhar where we will set up camp at approximately 3400m. ­
Trek for 4 to 5 hours to our first 'base camp' at approximately 4300m at the foot of the Munla Pass. ­
Trek for 6 to 7 hours over the Mun La (our first high-altitude pass) which tops out at around 5100m. Descend ­to camp at Pil Thang (4600m).­
Today is our spare acclimatization/contingency/rest day to be utilized either here, or perhaps earlier/later in the trek as needed. ­­
Trek for 4 to 5 hours down into the majestic Dharlang Valley and camp at approximately 3­800m.
Trek for 6 to 7 hours to Chumik Nakpo and set up camp at approximately 4300m.­
Trek for 7 to 8 hours to our second 'base camp' at the toe of Zanskar Kanthang glacier at approximately 4800m. ­
Trek for 8 to 9 hours over the Pot La (our second high-altitude pass topping out at 5490m) before descending to camp at Kanjur (4900m) on the Zanskar side of the range. ­
Trek for 5 to 6 hours to Chimichenmo where we will set up camp at approximately 4200m.­
Trek for 5 to 6 hours down to Burdan (3700m) Monastery where the trail ends. ­Drive for a couple of hours to Padum. Overnight local lodge.­
­
Drive for 6 to 7 hours to Leh via the Singela Sirsirla Pass. Overnight in comfortable boutique lodge. ­
Final rest day in Leh to enjoy some leisurely sightseeing,­ and perhaps a bit of shopping.­
Fly from Leh (IATA: IXL) to Delhi. Connect onwards to your final destination.­
Rest assured we will be here to advise you on all aspects of preparing for, and participating in, this trip. Here are a few obvious places to start.

Accomodation ­
Will be in boutique lodges in Dharamshala and Leh, and more basic local hotels in other towns/villages . On the trek itself we will be camping.­ Please note that any accommodation required before/after the expedition in Delhi is not included.­
Altitude­
The maximum altitude en route will be approximately 5490m. We have included one extra day that can be used as as a spare acclimatization day as needed.­
Communication
On the trek there will be no phone coverage but we will carry a two-way satellite email and texting device for emergency communication.­
Difficulty
The trek will be challenging so everyone will need to be properly prepared both mentally and physically.­
Equipment ­
We will supply all (rigourously cleaned) camping equipment, although we recommend you bring your own sleeping bag. Please refer to our
typical kit list
for a guide to what else to bring.­
First Aid ­
We carry a comprehensive medical kit, including Diamox and Dexamethazone to treat any signs of altitude sickness. As standard we also have a group search & rescue membership with GEOS.­
Food ­
Mainly local and Western food prepared by our expedition cook. We also will include plenty of snacks etc.
Flights ­
The trip begins in Jammu (IATA: IXJ) and ends with the flight out of Leh (IATA:IXL). All guests must arrive in Jammu by the late morning of day 1.­ Please note that we will book both domestic flights, which are included in the price.­
Insurance
All guests must have a comprehensive travel insurance policy that includes emergency medical evacuation. As standard we also have a group search & rescue membership with GEOS.­­
Support ­
Your large rucksacks will be transported by porters so you only need to carry your day pack while hiking. ­
­Temperatures
Typically will range between 5 to 20 degrees Celsius during the day but may fall to as low as minus 5 degrees at night. ­
Toilets & Washing­
On the trek itself we will be camping, so washing and toilet facilities will be wild and fairly basic­, although we will carry a toilet tent.
Visas ­
Indian visas will be required for this trip for those nationalities that require one. No other special permits are needed. ­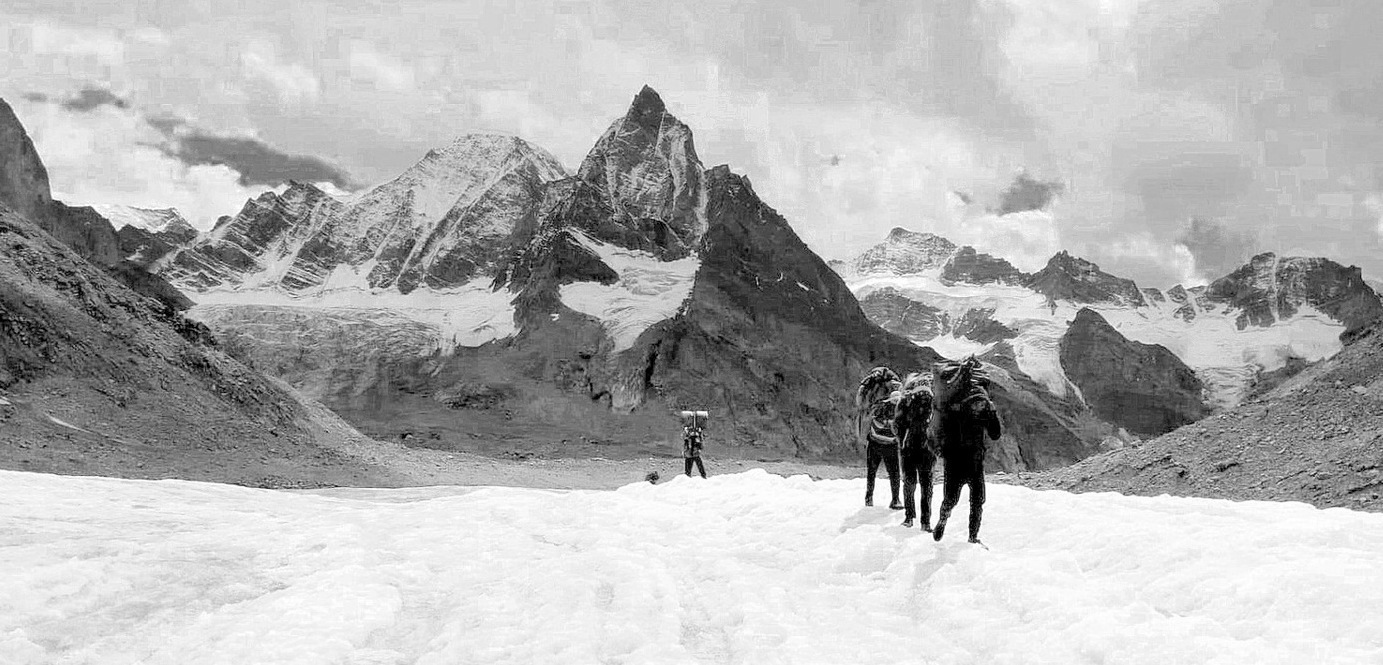 The genesis of an idea: A dog-earred copy of the Himalayan Journal, a wee dram, and the proverbial back of an unmarked postcard­.
Don't Forget Your Dancing Shoes!

The historical remoteness of the Pangi Valley is reflected in it's unique cultural heritage, including a variety of colourful festivals and dance forms, to be found only in this hidden corner of the Indian Himalaya. While we have not specifically scheduled this trip to coincide with an 'official tourist' festival, rest assured, we will enjo a more immersive, smaller scale knees up in the beautiful Buddhist village of Aliya, while acclimatizing early on in our expedition!