Discover The World's Highest Virgin Peak: Bhutan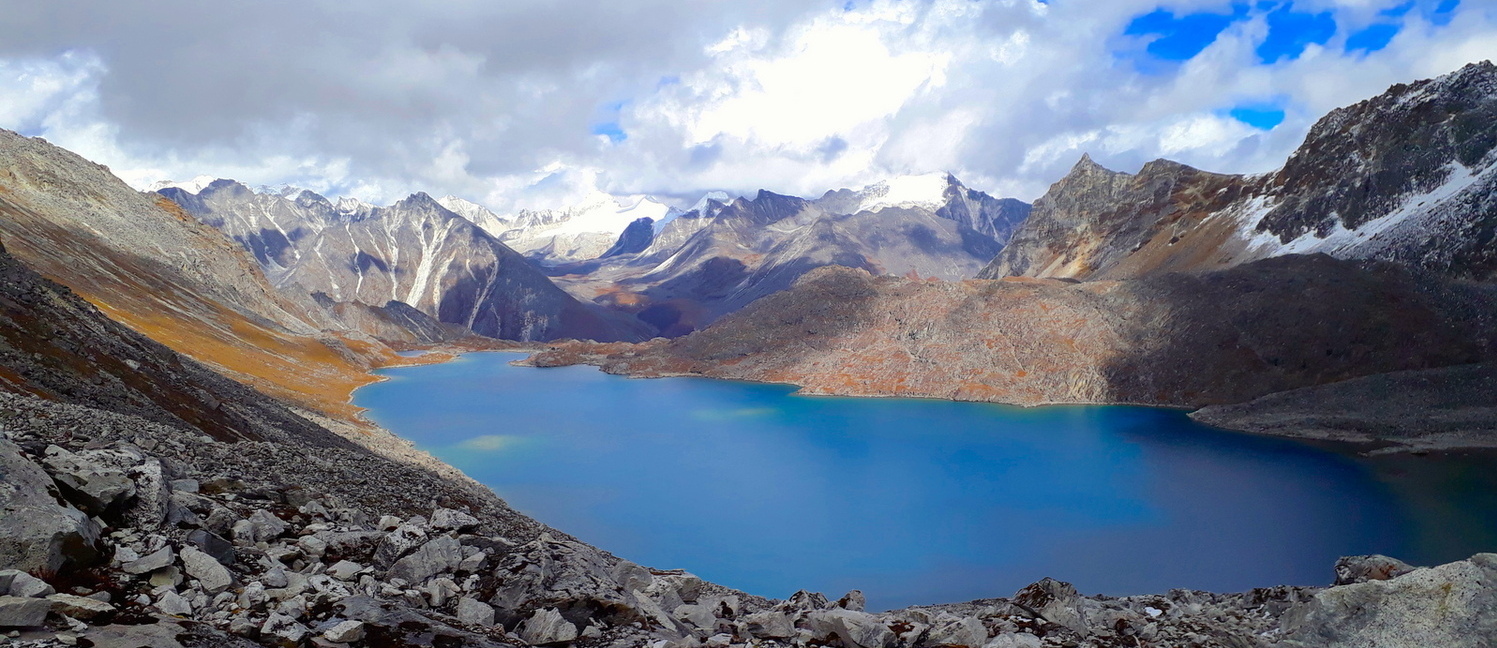 October 30 to November 16, 2023 | USD 7100 pp*

* Please note that the pricing of this trip incorporates the most recent revisions to the SDF by the Bhutanese government that were put into effect from June 1, 2023
While cooped up in the eye of the Covid-19 storm, some of our most treasured expedition plans were dusted off, in preparation for a time when we would all yearn, once again, to discover truly wild places; precious, largely unexplored lands, that lay far beyond the reach of the goretex-clad crowds. Thankfully, even in an increasingly filled in map of our planet, there are still countless places of mystery, and here at Whistling Arrow, the remote, spiritually-charged 'White Peak of the Three Bodhisattvas', and it's surrounding striated valleys, have always been uniquely enchanting. Remarkably for one of the greatest explorers of his time (and last protagonists of the "Great Game'), not even the ubiquitous Colonel Bailey, (who ventured nearby in 1922, to invest the Bhutanese King with the rather grandiose title of Knight Grand Commander of the Order of the Indian Empire), managed to set eyes on this particular Himalayan wonderland.
And so, this year, we will finally embark on this epic high-altitude adventure, to journey up through forested-valleys, and past the ruins of age-old dzong, to emerge into the remote southern and eastern flanks of Gangkhar Puensum; the highest unclimbed peak (7541m) on earth, which straddles the remote borderlands of northern Bhutan and southern Tibet. And there, we will discover hidden mountain sanctuaries framed by towering 7000m peaks, and extraordinary ridge-lines with awe-inspiring panoramas over glaciated valleys, dotted with impossibly azure lakes. In short, if you dream of escaping into one of the most beautiful wilderness areas in Asia, then look no further than joining our small, like-minded team of intrepid trekkers.
Participate in an exploratory expedition to explore one of the last hidden corners of the mighty Himalayan range.
Experience one of the most spectacular Tibetan Buddhist festivals in Bhutan; the Jambay Lhakhang Drup (Nov 1).
Forge a seldom-trekked route to unearth a spritually charged mountain sanctuary, shrouded in time-honoured mystery.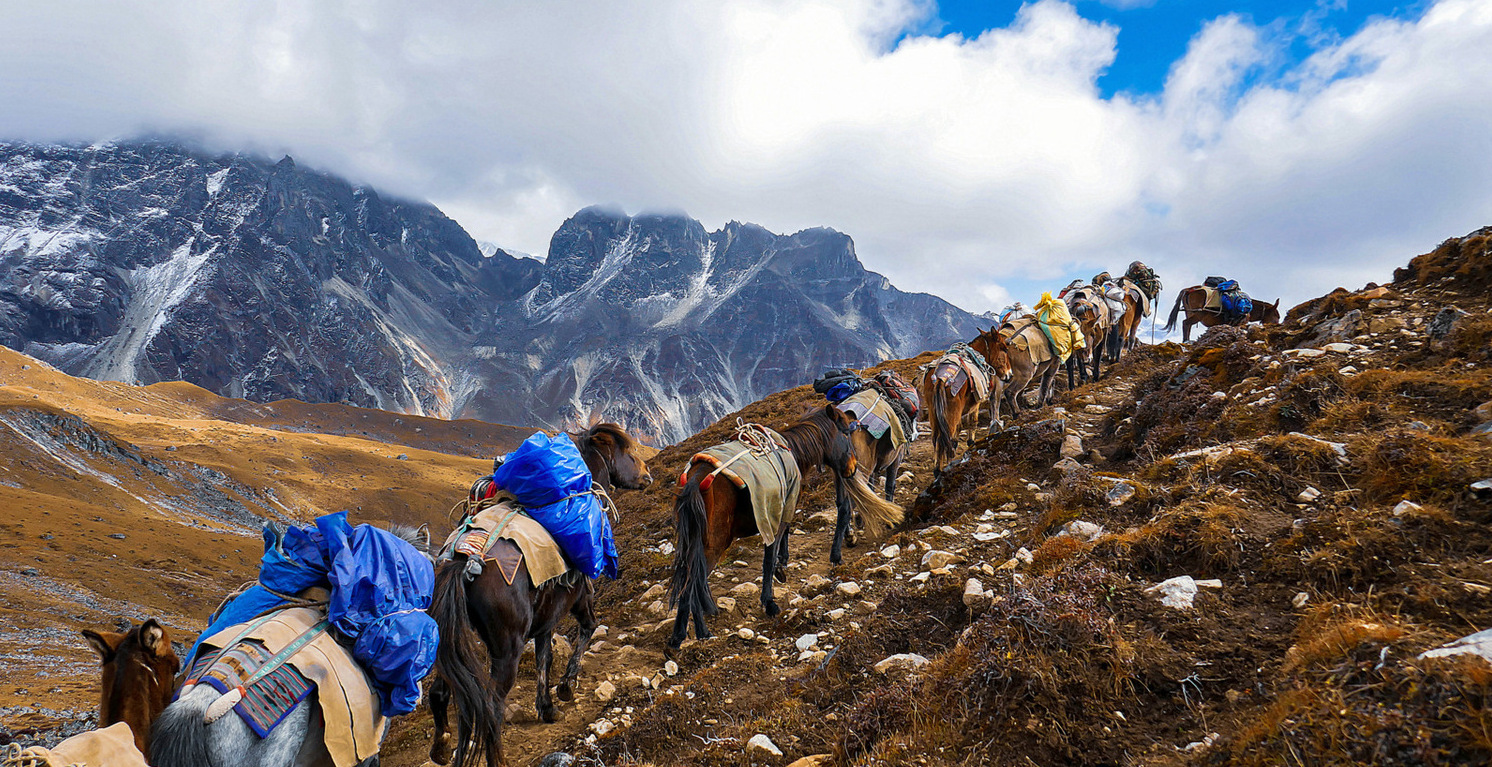 This is an exploratory route through a remote region of the Himalayas that will require a considerable amount of flexibility and self-reliance from all members of the team. The following is only the outline daily plan. The average time hiking on the trail will be between 6 and 7 hours per day.
October 30, 2023 ­
Fly to Paro (IATA: PBH). You will be met at the airport and transferred (3 hours drive) to our local farmstay in the Punakha Valley. Visit the local dzong, and enjoy a hot stone bath before dinner and drinks.­
October 31, 2023­
After breakfast, we will enjoy some archery, before driving to the beautiful district of Bumthang (via Trongsa), home to several ancient temples and dzong. Here we will overnight in a local heritage farmhouse.­
November 1, 2023­
Today we will acclimatise further, explore, and visit one of the most spectacular and unforgettable festivals in Bhutan; the Jambay Lhakhang Drup (including potential access to the 'chercham' or naked fire dance)­. Overnight in heritage farmhouse.­
November 2, 2023 ­
A short drive to the trailhead to meet our expedition team­, before setting of on the trek up through a valley, scattered with old temples. Set up camp (2865m) near a small chorten.­
November 3, 2023 ­
Follow the raging river up through a densely forested (and narrowing) valley of rhododendron, pine and fir. Set up camp (3240m) by the river, surrounded by small cliffs.­ ­
November 4, 2023 ­
Trek up through the tree line, before breaking out into the junction of two open valleys.­ Head up the left-sided valley and set up camp (3710m) overlooking the confluence of two rivers.­
November 5, 2023 ­
Gradually ascend through the beautiful valley, past a number of yak herder huts (yak butter tea anyone), before setting up camp (4200m) by the river.­
November 6, 2023 ­
Trek along the valley, with our first breathtaking views of the high mountains, before setting up our camp (4550m) for the next two nights at the base of Mt ­Melunghi Kang (6902m).
November 7, 2023
Today we will explore this spectacular mountain sanctuary, by climbing up to a panoramic ridge line with epic views of Gangkhar Puensum, and the adjacent hidden valley. Return to camp (4550m).
November 8, 2023 ­
An epic day for exploration with a trek up to another ridge line, with ­jaw-dropping views over ­Gangkhar Puensum, and it's extensive glacial system. Return to camp (4980m).­
November 9, 2023
A lengthy trek back down the valley, following the river, and a trail past several more yak herders huts, before crossing a wooden bridge and setting up our next camp (3710m).­
November 10, 2023
Trek up from the campsite, through a lightly forested area of rocky crags and cliffs, before topping out with stunning views over Tibet.­ Head into the next valley and camp (4470m) by a small lake.
November 11, 2023 ­
This is our spare day, likely used earlier in the expedition if everything goes exactly to plan, but­ kept in our back pocket as and when we need it for further acclimatisation or exploration.­
November 12, 2023 ­
Trek gradually up to the next pass with more awe-inspiring views, before embarking on a lengthy descent down to the floor of the next deep valley. Set up camp (4090m).­
November 13, 2023 ­
Descend through rhododendron forest before following the bank of a river to arrive at a small dirt track that leads to a local village. Meet our transport, and drive back to Bumthang. Overnight in a comfortable mountain lodge.­­
November 14, 2023
Drive back to Paro, to arrive at our boutique local lodge nestled in the pine forest.­ Relax, have a few cold beers, and­ enjoy a hearty dinner in the cozy surroundings.
November 15, 2023­
­After breakfast, we will take a short drive to the trailhead, and climb up to the fabled 'Tiger's Nest­', stopping at the viewpoint cafe to sip their surprisingly good coffee.­ Enjoy a final dinner, and overnight once again at the boutique lodge.
November 16, 2023
­Drive to Paro airport, to catch our outgoing flights. Big hugs all around, and hope to see you next time! ­­­
Rest assured we will be here to advise you on all aspects of preparing for, and participating in, this trip. Here are a few obvious places to start.

Accomodation ­
Will be in boutique lodges and/or farmhouses in Punakha, Bumthang and Paro. On the trek itself we will obviously be camping in tents.­ ­
Altitude­
The maximum altitude en route will be approximately 5490m atop one of the spectacular ridge lines. We have included one extra day that can be used as as a spare acclimatization day as needed.­
Communication
On the trek there will be no phone coverage but we will carry a two-way satellite email and texting device for communication, and a satellite phone for emergencies.­
Difficulty
The trek will be fairly challenging so everyone will need to be properly prepared both mentally and physically.­
Equipment ­
We will supply all camping equipment, although we recommend that you bring your own sleeping bag (comfort rated to minus 10 degress Celsius). Please refer to our
typical kit list
for a guide to what else to bring.­
First Aid ­
We carry a comprehensive medical kit, including Diamox and Dexamethazone to treat any signs of altitude sickness. ­As standard we also have a group search & rescue membership with GEOS.­
Food ­
Mainly local and western food prepared by our expedition cook. We also will include plenty of snacks, and try our best to accommodate all dietary requests.­
Flights ­
The trip begins and ends in Paro (IATA: PBH). All guests must arrive in Paro by the morning of October 30.­ Please note that we can help to book flights to/from Paro (typically via Delhi or Bangkok), but these are not included in the price.­
Insurance
All guests must have a comprehensive travel insurance policy that includes emergency medical evacuation, and covers trekking up to 5500m (
World Nomads
is a good option).
Support ­
Your large rucksacks, or expedition duffell bags, will be transported by mules, so you will only need to carry your day pack while hiking. ­
­Temperatures
Typically will range between 5 to 20 degrees Celsius during the day but may fall to as low as minus 5 to 10 degrees at night. ­Please note that we will have a heater to keep the mess tent warm at night.­
Toilets & Washing­
On the trek itself we will be camping, so washing and toilet facilities will be wild and quite basic­, although we will carry a toilet tent, a small portable shower., and a port-a-loo.­
Visas ­
Bhutanese visas will be required for this trip and will be arranged by Whistling Arrow. ­The cost of the visa (and accompanying SDF) is included in the trip.­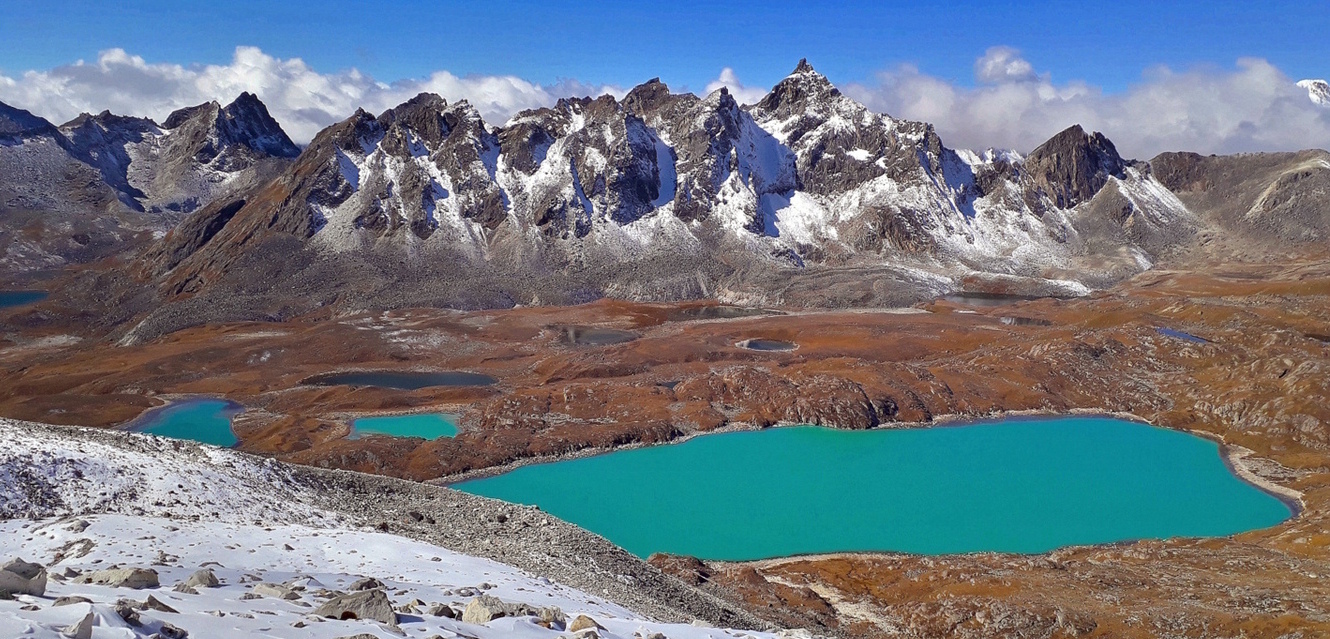 One of several spectacular glaciated valleys; largely unexplored, and dotted with extraordinarily turquoise-hued lakes­.
A Final Word On This Expedition

We have learnt never to judge a book by its cover; making assumptions about any of our clients on the basis of age, or previous outdoor experience, has always been a fools game. We know, from many years of experience, that what really counts, is a determined and flexible mental approach to any adventure, and so, as usual, this expedition is open to all-comers. Please do bear in mind though, that it will be remote, challenging, and relatively high-altitude.