Yading Hidden Peaks Trek: Western China

September 26 to October 14, 2017 |

­

USD 3750 PP



This is a rare opportunity to join a pioneering trekking expedition one of the most spectacular mountain sanctuaries in Asia. The aim of the expedition is to approach the three sacred peaks of Yading, in Sichuan, from the west, before heading south into largely untrekked and unclimbed territory.

Trekking with low-grade support, we will head up to the stunningly beautiful 'Wisdom Lake' at the foot of Mt Jempalyang and then traverse the adjacent 'shoulder' into a spectacular mountain basin we call the 'Amphitheatre'. Leaving this section of the 'Big Kora' pilgrimage route behind we will then forge an exploratory trail down into the lower Nakshyi Valley and beyond towards two uncharted peaks to the south. We know the first section of this spectacular trail well having completed the 'Yading Big Kora' on four previous occasions, but trekking into the region beyond the valley is very much a 'first foray'.

And so, trekking south towards one of two non-technical 5000m peaks we will set up two 'base camps' and explore whether they can be climbed as low-grade, non-technical alpine ascents. We will also have time to explore a new ridge traverse, which if successful, will open up two unexplored high-altitude lakes.

Please note this is not a climbing expedition per se but first and foremost an exploratory trekking adventure into arguably the most pristine and stunning mountain wilderness in China. The opportunity to participate in a pioneering summit attempt, is just the icing on the cake. So - if you are an experienced trekker looking for an 'unscripted' and truly exploratory adventure in the wild Tibetan borderlands of western China, please do get in touch today.

Trek into one of the most beautiful mountain sanctuaries in Asia and be part of a team pioneering a new trekking route from the west and to the south of Yading.


Explore untrekked mountain and wilderness terrain and attempt the first summit climb of one of the region's non-technical 5000m+ peaks.



Participate in the first self-sufficient expedition to trek into largely unexplored territory and experience the thrill of a truly fly-by-the-seat-of-your-pants adventure.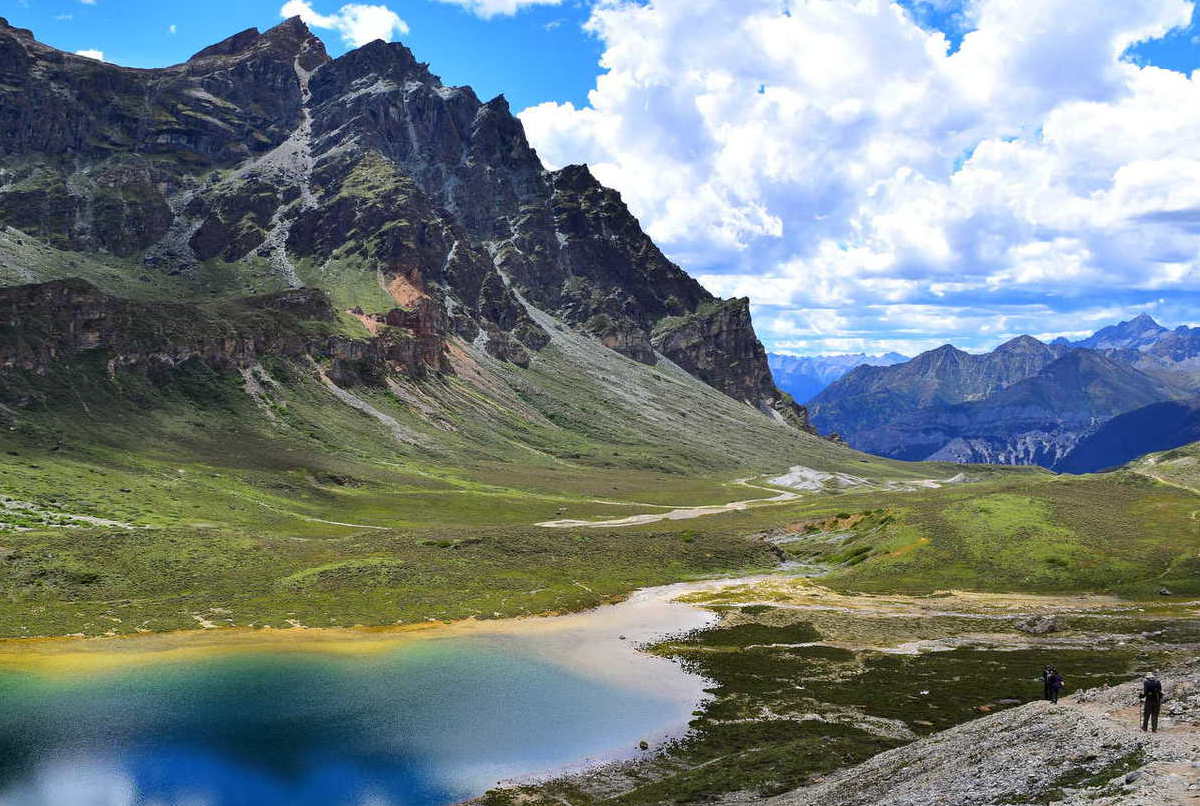 Be the first to trek into ­, explore and climb the mountains south of Yading.­
Below is a brief outline of the proposed schedule. For more detailed route information please email us directly. Please note that this adventure has been designed to keep costs as reasonable as possible and requires team members to be relatively experienced and self-reliant.
Outlined below, is the most conservative schedule available to us. In all likelihood, our travelling time to and from the trek's start and finish point will be accelerated by at least one day giving us slightly more time 'on the trail'. There is is also a fair amount of flexibility built into the trekking route itself, to allow us to manage any unforseen developments.

| | | |
| --- | --- | --- |
| Dates | Route Description | Additional Information |
| Day 1: September 26, 2017 | Fly to Shangrila. We will meet you at the airport and transport you to your hotel in town. | Welcome drinks and dinner at local restaurant. |
| Day 2: September 27, 2017 | Visit Sungzanlin Monastery in the morning. Visit the local market to provision for the trip. | Overnight in same hotel and dinner at a local restaurant. |
| Day 3: September 28, 2017 | Scenic six hour drive to Xiancheng. In the late afternoon visit Tsampaling Monastery above town. | Local Tibetan lodge accommodation. |
| Day 4: September 29, 2017 | Stunning six hour drive to Ji Ga Xiang Village. Visit the Kagyu-sect Zhagu Monastery en route. | Local lodge accommodation. |
| Day 5: September 30, 2017 | Trek to Wisdom Lake. We anticipate it will take us two days to arrive at the stunning lake. | Camping with relatively low-grade support. |
| Day 6: October 01, 2017 | Trek to Wisdom Lake. Camp at the foot of Mt Jempalyang - a wild and spectacular setting. | Camping with relatively low-grade support. |
| Day 7: October 02, 2017 | Trek over the 'shoulder' to ' Green Lake' past the awe-inspiring 'Amphitheatre'. | Camping with relatively low-grade support. |
| Day 8: October 03, 2017 | Trek down into the 'Nyakshi Valley and begin the 'first foray' into the peaks to the south. | Camping with relatively low-grade support. |
| Days 9 - 16: October 4 - 11, 2017 | Spend the next 8 days scouting, trekking and climbing virgin wilderness and peaks. | For a number of days we will operate from two planned 'base camps' at the foot of the mountains. |
| Day 17: October 12, 2017 | Trek back down through Blue Moon valley to meet our transport. 2 hour drive to the village of Langdu. | Overnight in local lodge next to a small river. |
| Day 18: October 13 2017 | Four hour drive back to Shangrila. Time to indulge in a few cold beers. | Overnight in comfortable local lodge. |
| Day 19: October 14, 2017 | Transfer to the airport and fly home. | See you next time. |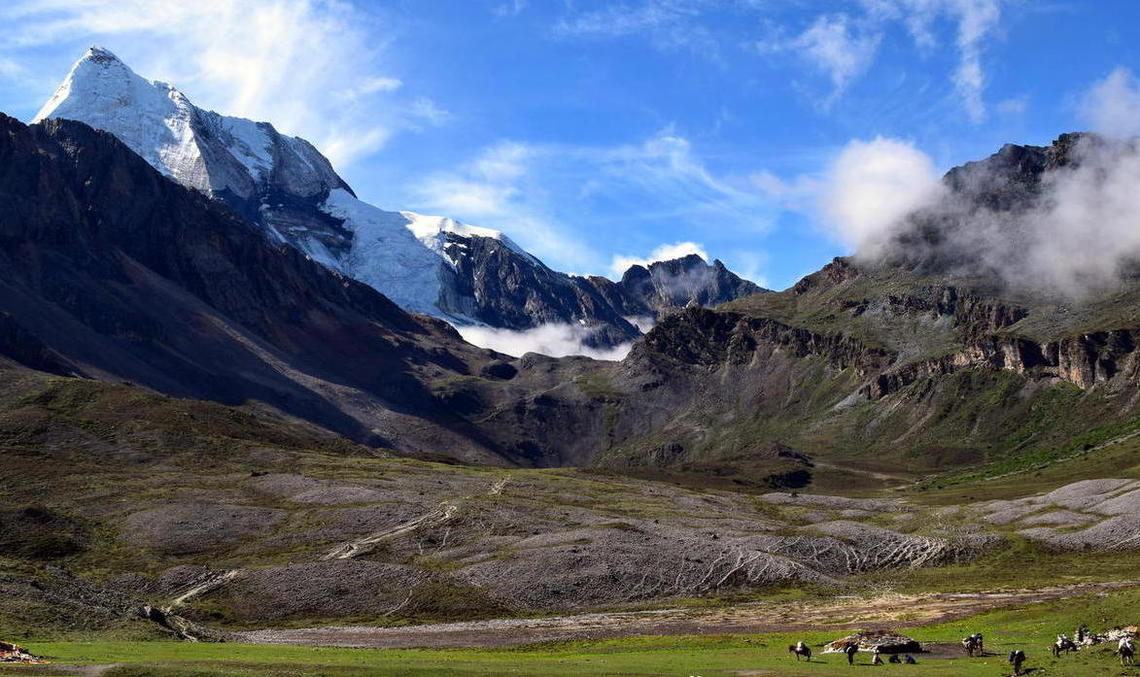 Our favourite kind of adventure; a self-sufficient, mule-assisted expedition into uncharted territory.­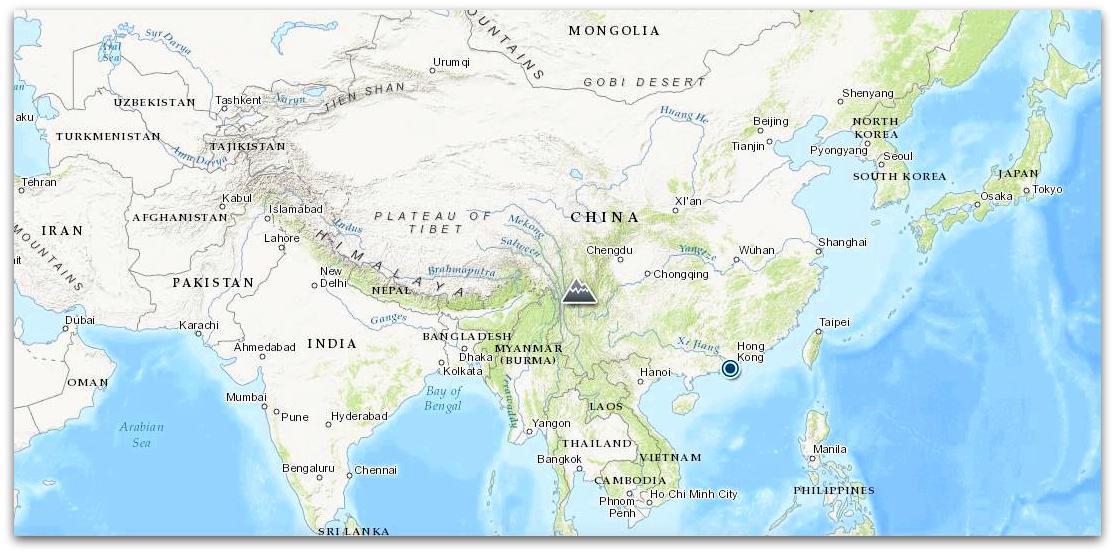 The mountain icon denotes the location of the expedition in the Garze Tibetan Autonomous Region in modern-day western Sichuan - to be exact.­
Altitude:

the maximum altitude is likely to be approximately 5000m when attempting non-technical summit climbs during the last week of the expedition.

Temperatures

: typically range from 10 to 20 degrees Celsius during the day and can fall to around freezing at night.

Duration:

the trip is 19 days in total with approximately 13 to 15 days of actual trekking and exploration..

Difficulty:

the trip will be challenging and exploratory. So you need to be physically fit,

flexible

and mentally strong.


Support

: relatively low-grade support so please be prepared for some tent-work. All luggage and equipment will be carried by mules.

Food:

mainly Chinese/Asian although we will also include some pasta, cheese, yogurt, peanut butter etc.

Vegetarians:

we can accomodate vegetarians no problem and have done so many times before.


Accomodation:

is in local lodges, rustic farmhouses and camping in tents.

Wash:

we will wash in the rivers and streams when the sun is out.


Toilet:

we can either nip behind a bush or use the toilet tent.

Communication:

for most of the trek there is no phone signal but we carry a two-way satellite email and texting device.

First Aid:

we carry a comprehensive medical kit including Diamox and Dexamethazone for the treatment of altitude sickness.

Equipment

: We will provide all camping equipment. Please refer to our typical kit list for a guide to suitable trekking gear.

Insurance

: all guests must have a travel insurance policy that includes emergency medical evacuation.


Flights

: the trip begins and ends in Shangrila (IATA: DIG). All guests must arrive in Shangrila by the evening of September 26, 2017.

Support

: this trip is relatively low-grade support and will best suit experienced, relatively self-reliant trekkers.

All inclusive, except local tips and flights. To confirm a booking we will require a 30% deposit with the final balance payable 30 days before the departure date.
We currently have 4 places open.
Group size for this adventure will be limited to an exclusive group of just 8 guests.
We will provide all the information you need to book and prepare for the trip including payment instructions, advice on flights, what to bring and safety considerations e.g. acclimatization.


Yading 'Hidden Peaks' Trek |
Western China